This half term we will be looking at the following value:
Dear Parents,
I would like to begin by thanking all of you for your support during the first week of term. I have been very impressed by the speed and ease in which you have adjusted to the new norm.
To support all of you during the next five weeks, we have identified key questions and situations which may crop up when learning from home and have outlined below some useful tips which we hope you will find helpful.
What should my child's remote education provision look like?
The Department for Education (DfE) has published its expectations for what schools should consider when planning their remote learning offer. The staff are working incredibly hard to provide imaginative and differentiated work that mirrors as far as possible the normal school experience.
We will offer a blend of recorded video resources and independent self-study using a range of resources including White Rose in Mathematics and Read Write Inc to support children with their phonics learning. Work will be planned to meet the different needs of pupils and children can expect teachers to provide feedback after completing pieces of work.
Children in Reception and Nursery will have learning tasks set via a daily newsletter posted on the school website . This can be found under 'Early Years' - 'Home learning' - 'Daily Learning' . In addition, videos such as stories and songs performed by Mrs Wells and Mrs Clarke will be shared on Tapestry. Daily correspondence will be provided to support you with the child's learning via Tapestry and email with two Goggle Meets a week.
For those children in years one to six, all learning will be set on Google Classroom with regular Google Meets taking place to meet the teacher and discuss the learning.
Does my child need to complete every piece of work?
We expect children to complete every piece of work set although we fully understand that this may be challenging at times. If you are finding a piece of work difficult or your child is struggling with motivation, use some of the ideas below or simply contact the class teacher who will be more than happy to share ideas with you on how to adapt the learning.
How do I motivate my child?
Break the day down into chunks and write out a routine that children can see.
Include a time to exercise, to play or read alone and to be outside. Also, waking up at the same time and keeping to the same bedtime routine as a normal school- day will support the transition into remote education.
Create the best space possible. Having all equipment close to hand and your child's work displayed on the wall would signal that this is a 'learning space' and removing any distractions will make a big difference. If a straight-backed chair and desk aren't available, try making a "work throne" out of pillows on your child's bed each morning, or find a small enclosed space to help reduce distractions.
Take breaks. When you feel they are needed, encourage a quiet time where they can rest in their bedrooms, play with a game by themselves, listen to an audiobook or read. This way everyone gets a break and space to recharge. Try having a selection of healthy snacks out on the kitchen table so a child can help themselves to a snack after a lesson ends.
Stay positive. Children look to their parents to figure out how to react to new or intimidating situations. If their parent seems sceptical or defeated, then they're likely to follow suit. Staying as positive about remote education as you can will help your child to maintain a 'can do' attitude to the tasks set.
What can I do to reduce screen-time?
Make it practical. If you have been set a task to add numbers up to twenty,
children can go outside and find twenty leaves to use for their calculations. If
the task is to write a diary entry as Harry Potter, you could pretend to be wizards around your house to get those imaginations fired up. If spelling is a task, how about getting messy with some finger painting or shaving foam? This will help your child 'unlock' more ideas and extend the learning over a longer time period.
My child completes the task really quickly and then gets bored, what can I do?
Supplement the activities set by the teacher with other tasks that can be completed more regularly. Read the next chapter of their reading book, spend time writing out that tricky 7x table and coming up with ways to memorise it, ask your child to record a message to their teacher explaining their understanding of the task, complete an exercise routine based around the task or create a poster or set of instructions to teach somebody else the skill.
How do I keep my child safe online?
On the E-Safety section of the school website you will find lots of important advice and suggestions.
A great starting point is to follow the SMART rules: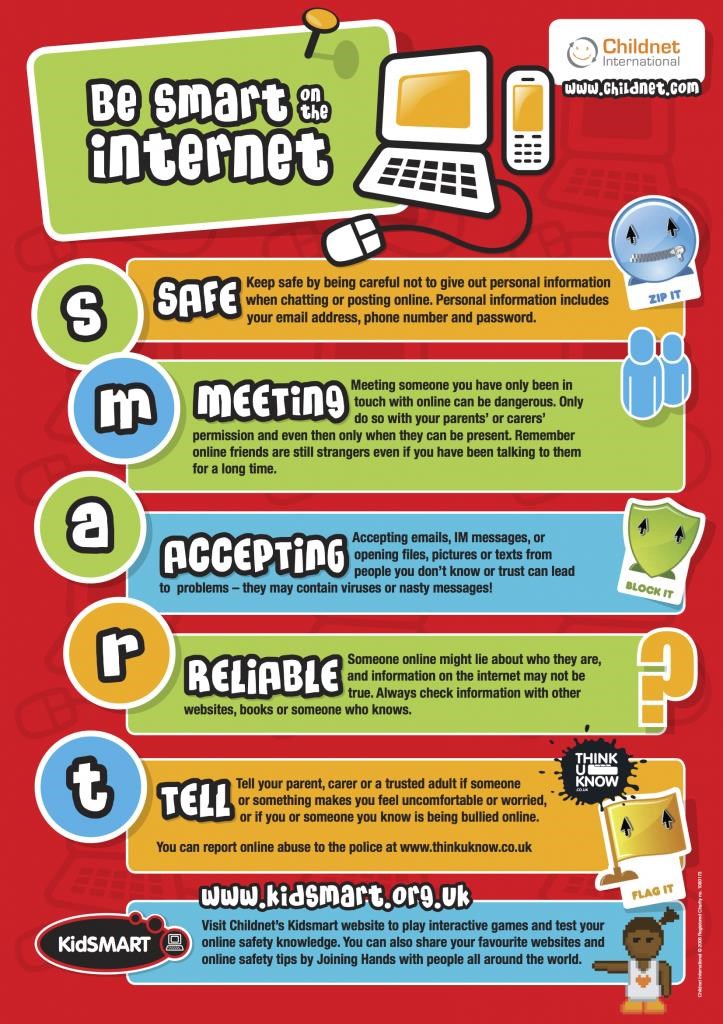 The adults at home are all working, what do we do?
Make the teacher aware. They may be able to offer your child additional support or adapt the task to be more independent.
Be flexible. If the working day is more difficult, prioritise which remote education tasks you think will need adult support. Could one of these be completed first thing in the morning or once the working day has finished?
I have three children who are all being educated remotely, what do I do?
Prioritise and simplify what is being set. Look at the tasks your children have been given and consider which of those are going to need your support and which can be done independenly? Can the tasks be arranged in a way that one or two children can be completing independent tasks allowing you one-to-one time with the other?
Combine activities. Are any of the different children's tasks similar, for example both writing a different diary entry? Could these be combined into the same activity to be completed as a whole family? Bringing everyone together for a shared task can be an effective way to work around everybody's wants and needs and creates a sense of togetherness.
We do not have a printer so how do we complete worksheets?
Use what you have at hand. A pen and paper will be all you need for most tasks. Once children have watched or read through the instructions, you can either keep the tasks displayed on the screen or write these down for the child to follow.
The worksheets are there as a guide, but teachers fully understand that fewer and fewer people have a printer nowadays. Either display the worksheet on the screen to work from, or you could use it as a guide to create a similar sheet on a piece of paper.
The work is too difficult and they can't do it. What shall I do?
Give it your best shot. It may be that they aren't getting everything right, but the learning journey is always full of mistakes. If your child is happy to, persist with the task and you may find that they develop their understanding as they continue with the activity. We rarely expect pupils to get everything right, mistakes are an important part of the learning journey!
Speak to the teacher. Use the contact methods we have given to you to let them know. Bear with them in what will undoubtedly be a really busy time, but they will be able to support you in adjusting these tasks if your child is still struggling and may be able to offer further teaching to those who are finding it difficult.
My child's teacher has not responded to a question
Teachers will endeavor to respond as quickly as they can however this may not happen straight away. Teachers are leading groups in school on set days and on these occasions, they may not be able to respond as quickly as normal. If you are waiting for a response, move onto a different activity or task or take a learning break.
My child has not completed their work
Teachers will be keeping a close contact with all pupils in their class. If we have not seen any work uploaded for a couple of days, the teacher will be in contact with you to see how they can support you with the learning and to offer strategies to support you during this time.
Staying in contact with the school
Staying in contact with the school via uploading work, attending Google Meet and corresponding with the teacher is really important. If we do not have regular contact with families, we will be in contact with you to support you in engaging with home learning.
I hope these suggestions are useful and give you ideas in supporting your child during these difficult times.
Have a great weekend.
Mr Griffin
As of last Tuesday, the School Fruit and Vegetable Scheme have stopped delivering fresh fruits to schools in the UK, so please can parents provide a healthy snack (no chocolate or snack containing nuts) to their child(ren) for the morning break. Thank you.
- PE information for the two bubbles
Bubble A - PE will take place on Monday and Wednesday (FSU and KS1)
Bubble B - PE will take place Thursday and Friday (KS2)
Please can you ensure that the children come to school appropriatly clothed for those two days. Thank you.
If your child recently went home with clothes that are not his or hers, but were lended by the school, please can you return them to Mrs Bending's class as soon as possible as their stock of clean clothes is very low. Thank you
The school is looking for a local plumber to sort out a leaking loo, a blocked one and take out a shower fitting in an old bathroom. If you are or know someone who is interested, please call the office on 01865 331239 and speak to Sandra or Françoise. Thank you very much.
- Increasing Mobile data allowance on mobile devices to support disadvantaged children - Who can get help?
Schools, trusts and local authorities can request mobile data increases for children and young people who:
do not have fixed broadband at home

cannot afford additional data for their devices

are experiencing disruption to their face-to-face education
Children with access to a mobile phone on one of the following networks might be able to benefit:
Three

Smarty

Virgin Mobile

EE

Tesco Mobile

Sky Mobile
For each request we will need to know the following;
The name of account holder
the number of the mobile device
the mobile network of that device
If this is of interest to your child, please get in touch with the office the usual way.
- Reception Admission - LAST REMINDER!
RECEPTION ADMISSION SEPTEMBER 2021
We are now accepting applications for Reception entry in September 2021 (see Key Admission Dates attached). Parents should be encouraged to apply online at www.oxfordshire.gov.uk/primaryadmissions as this is the most secure way of applying, but if parents cannot access the online process, we do have a paper form that I can send you.
Starting School Brochures are no longer being printed, but all the information contained in the Brochure is available on our admissions website.
The closing date of Reception applications is 15th January 2021, and the National offer date is 16th April 2021. The 15th January closing date is extremely important, as late applications will not be considered until May 2021 after the first offers have been made. Parents who make a late application are less likely to be offered a place at one of their preferred schools. The details of the admissions process is widely advertised in Doctors Surgeries, Libraries, Parish Councils, and made available to the 2,500 subscribers to the OCC Early Years Newsletter.
Regards
School Admissions Team
Education, Sufficiency and Access
County Hall, 4th Floor
New Road
Oxford OX1 1ND
Email: admissions.schools@oxfordshire.gov.uk
Website: www.oxfordshire.gov.uk/admissions
Poster and Admission dates on PDF below.