Newsletter 31st January 2020
This half term we will be looking at the following value:
On Tuesday, I went to a writing conference to discuss how to support children in becoming better writers. The key messages which I would like to share with you so you can support your children at home are as follows:

- Encourage your child to write all of the time.

- Writing about something you are interested in is far more effective and leads to better outcomes.

- When writing, think about the purpose of a piece as well as who your intended audience is.

- Focus on a few key areas to improve rather than considering too many factors.

- Finally, never place the end goal too low; high expectations and aspirations are key to raising standards.

As I am sure you are aware, the school frequently enters a wide range of sporting competitions and for some time has not had an official team kit. The school council have come up with the fantastic idea of asking a local company to sponsor the school's new sports kit. If you would be interested, please contact the school office for more information.

Can I remind all our families that hatched road markings at junctions are in place to make it safer for vehicles turning into and out of minor roads. They are NOT to be used as parking places. This is highly dangerous as children cross the road nearby. Please abide by the Highway Code and think about the implications of where you park.

I would like to remind all our families that next Thursday is our first Coffee Church of the term. This will take place in the community hall straight after school. It will be great to see as many of you there as possible.

Have a great weekend.

Mr Griffin
- Attendance
The attendance this week is 94.53%. A lot of children have been ill this week which explains the lower than usual attendance.
- Chinese New Year
As part of the FSU's week learning all about Chinese New Year we invited Mr Han and Lily Han in to talk to the children about their experience of Chinese New Year. The children loved hearing all about how the Chinese calendar was created by the animal race and how it is celebrated with lanterns, giving money in red envelopes, lion and dragon dances and making dumplings!

We even learnt how to say hello and goodbye in Mandarin. Thank you so much for Mr Han and Lily for sparing the time to come and speak to us and for the children's fortune cookies and lanterns.
- Sheldonian Concert
Year 5/6 attended a fabulous concert of familiar classical music performed by the Oxfordshire Youth Orchestra at the beautiful Sheldonian Theatre. The children were impressed with the musical skills of the Youth Orchestra and their behaviour throughout was impeccable.
- Plea
Please can you ensure that your child is booked online for breakfast club or CAST in advance (or let the Reception know the day before if you can't book online) as it is difficult for members of staff to prepare the right amount of food if they don't have numbers. Breakfast club had 17 children on Wednesday which is a much higher number than usual. Thank you for your help with this.
- Lost property
We now have a "LOST PROPERTY" box in the office so if you are missing white socks, a small pair of tight, a black umbrella, some reading glasses (red with black rim), a blue cardigan (not an FSU one), a small plastic box, please come and talk to us. We will put the box in the front of the school before half term for you to check it. Please can we remind you to name all the pieces of clothing that your children bring to school so we can reunite them to their owners easily. Thank you.
- Open Morning
Our Open Morning will take place on Friday 6th March from 9.10 till 10.00 am. Please come and see what your children have been up to.
- Gosford Hill Transfer Evening and Day
The Gosford Hill School Transfer Evening will be held on Wednesday 24th June 2020.

Transfer Day will take place on Thursday 25th June 2020.
- After School Clubs
REMINDERS:

- Monday = Multisports with Mr Wells = COST => £30 (Everybody paid, thank you).

- Tuesday = Yr 1/2 & KS2 Singing Club with Mrs Roberts = COST => £30 (I have assigned the children who have been going recently so please can you pay for the club if you haven't done so already).

- There are no clubs on Wednesdays or Thursdays but the children can attend CAST.

- Friday= Street Dancing with Rattle & Roll (please don't forget to pay Rattle and Roll directly if your child is attending the club).

The Football Club will start again with Mr Griffin on Thursday 5th March for 5 sessions ( until half term) so please do let us know if your child is interested.
- PTA News
Coffee Church Rev Lisa will be hosting another coffee church on Thursday 6th February straight after school in the hall. There will be crafts, songs, games and refreshments – lots of fun for all. The school choir will be singing as well.

Rags to Riches Bags for the next Rags to Riches collection will be coming out via bookbags early next week, ready for the collection on Tuesday 11th February. They collect clothes (no logo school uniform), bedding (duvet covers, sheets and pillowcases only), towels, paired shoes, handbags and soft toys. Everything is sold on so it must be good quality not stained, ripped or damaged. Last time we made over £200 for the school let's see if we can beat that.

Spring Disco The children love a disco and the next one is planned for Friday 14th February from 5.30pm to 7pm, all school pupils welcome – FSU children to be accompanied by a parent. Look out for the booking form in bookbags.

Internet Shopping Just a reminder if you are online shopping, think about signing up to the Easy fundraising scheme and Amazon smile both of which donate a percentage of the spend to the school https://www.easyfundraising.org.uk/causes/charltononotmoor/

If you would like to speak to a committee member or find out more about the PTA please contact us via the playground, office or mailto:Charltonschoolassociation@gmail.com https://www.facebook.com/groups/149362305695629/

Upcoming Events, Save the Dates

Rags to Riches collection – Tuesday 11th February
Spring Disco – Friday 14th February
World Book Day – Thursday 5th March
Easter Fun – Friday 3rd April
- Important dates for your calendars (which can also be found on the school calendar)
- 6th February = Coffee Church/Family Service at 3.15 pm with Rev Lisa

- 6th February = Yr 5/6 at Bicester Area In2Hockey at the Cooper School 2.15pm till 5.15 pm

- 10th February = Yr 5/6 Junior Citizens trip (if you haven't paid for the trip, please can you do it as soon as possible)

- 11th February = Choir's informal concert for parents whose children attend clubs/lessons with Mrs Roberts. It will take place in Yr3/4 class at 4.15 pm, please arrive 5/10 mins in advance to register at reception

- 13th February = Yr3/4 Multiskills at the Cooper School

- 14th February = Spring Disco

- 4th March = Yr 1/2 visit to the Science Oxford Centre

- 5th March = WORLD BOOK DAY (more on this later)

- 17th from 3.30pm till 5.30pm & 18th March from 6.00pm till 8.00 pm = PARENTS' EVENING - you will be able to book your slot or double slot between 2nd & 15th March 2020

- 19th March = Yr1/2 Multiskills Festival at the Cooper School

-20th March = Mothers' Day Service and Lunch

- 3rd April = Easter Church Service at St Mary's Church

-28th April 2020 = Yr 3/4 visit to Stratford Upon Avon for "Getting to know Will Workshop"

- 10th/12th June 2020 = PGL Residential Trip to Liddington for the Yr5/6. The form is available on the School Life App under TRIPS. Parentpay is already available for payment. You cannot pay with Childcare Vouchers for this trip.

- 8th/9th October 2020 = Yr5/6 at Youlbury
WEEK BEGINNING

| | |
| --- | --- |
| Be friendly, respectful and kind | Charlie (Yr5/6) for showing such kindness to a Yr 1 when she had fallen over |
| Be responsible | Edward (Yr 5/6) for being responsible in CAST and in class as well as setting up the computer in the hall |
| Be the best you can be | Kara (Yr3/4) for pushing herself at swimming |

| | |
| --- | --- |
| FSU | Alby for being an attentive, keen, responsible learner |
| Yr 1/2 | Orla for her great determination with her reading |
| Yr 3/4 | Mitzi for always working hard, being considerate and caring |
| Yr 5/6 | Emily for taking responsibility for card club, being helpful in class and trying her best in maths |
* Alby had his picture taken while this morning which is why he is not with the other children.
EVENT or NEWS OUTSIDE SCHOOL:
* Club Energy
Mr Wells (who works with the children on Monday) is organising a Football and Fun Games Camp during half term. Please see below.
* Festival of the Future
We are delighted to announce the Iris Festival of the Future on 25th March, 2020.

This will be a large community event celebrating our Future Season at the Rumble Museum, which explores a range of exciting technologies and themes, and ancient and modern ideas about the future. Full brochure can be seen below as a PDF.

There will be several discovery zones including: Classics and Archaeology, Robotics & Artificial Intelligence, Medicine, Architecture and Design, Environment, and Science Fiction. Each zone will contain activities, stalls, exhibitions, workshops, and a wide range of visiting museums with artefacts to handle and explore. There will be robot shows throughout the event, a driverless car, dance performances, and a cafe serving refreshments and hot and cold drinks.

The event will include expert talks as well as a wide range of stalls, activities and exhibitions. Visitors will be able to follow an exciting new model Robot Trail as they explore the site, with each discovery zone containing striking decorations, workshops, stalls, performances and activities themed on different aspects of future technology, ancient and modern ideas, and museum learning.

The stalls, activities and exhibitions run from 3.30 until 6pm. It is free and caters for all ages. Primary and secondary school groups are warmly welcome.

The following talks will also take place throughout the afternoon and evening:

3.30 – 4.15pm – Professor Robert Winston

4.30 – 5pm – Sparsh Ahuja, founder of Project Dastaan

5.15 – 5.45pm – Sophie Hackford, futurist

6 – 6.45pm – Mark Stevenson, futurist, author and entrepreneur

The festival itself does not require booking unless you are visiting with a school group. Talks do need to be booked, and can be done so by emailing info@irisproject.org.uk
* The Village Players present their 34th Pantomime THE SNOW QUEEN on 20/21/22 February at The Cooper School
Our very own Mr Roberts (Singing Teacher) is playing Gerda and she will try to rescue her friend Kai from the wicked Snow Queen!

So come and enjoy the magic!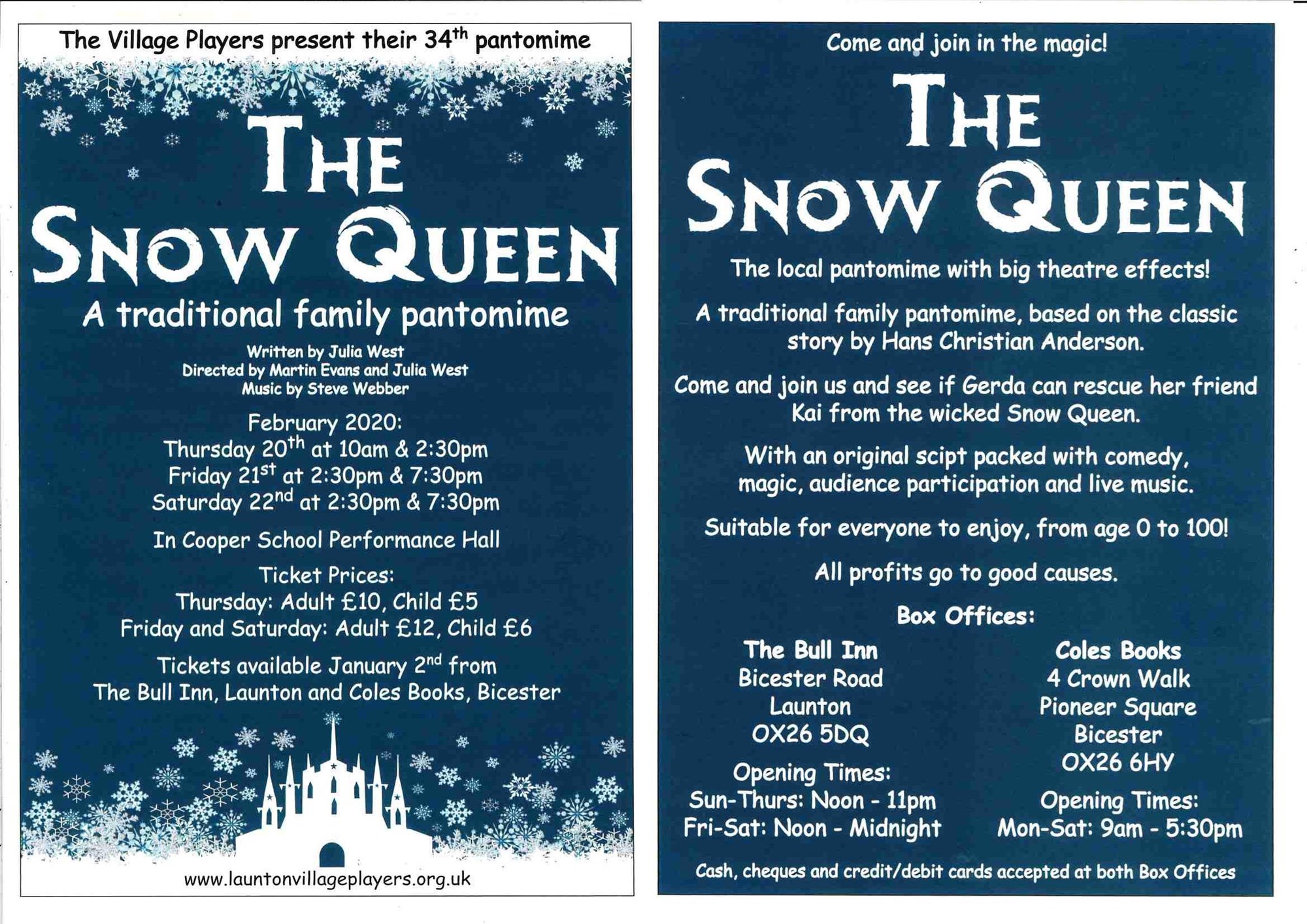 * Run 5 Miles for the Oxford Children's Hospital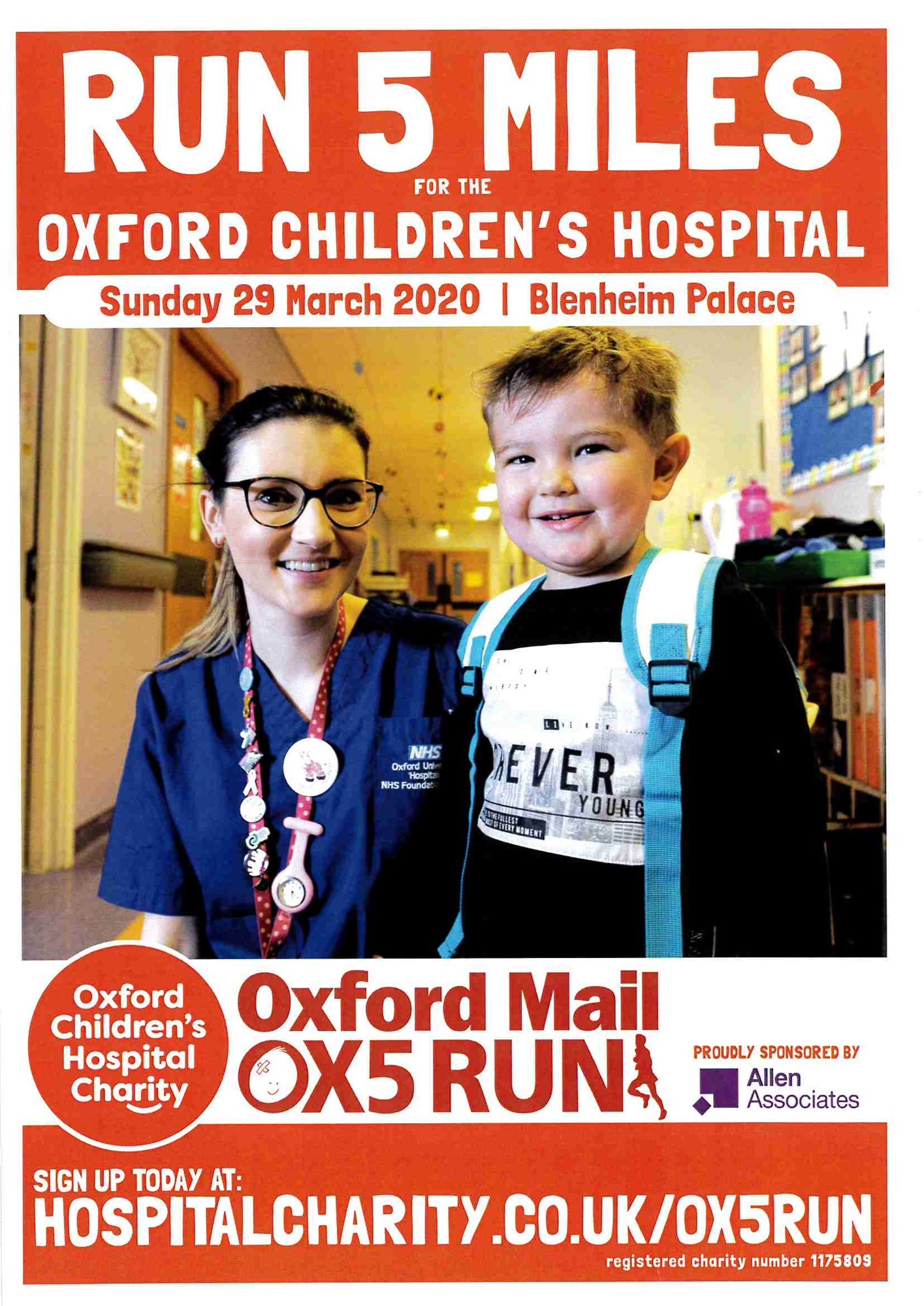 * Family Active, Sporting Together