Newsletter 25th October 2019
This half term we will be looking at the following value:
- Attendance
Attendance for this week is 92.05%. 



- Letter from Mr Griffin
It has been a very exciting first half term as your new headteacher. I wanted to take this opportunity to highlight many of the successes and achievements that have been accomplished over the past eight weeks.

- Back in September we elected our new School Council following on from an impressive number of pupils standing for election.
- CAST was reintroduced under the successful leadership of Chris Squire.
- A wider range of after school clubs have been offered to families including singing lessons within the school day.
- We introduced the first of our new school values: Love
- An impressive £83 was raised through Jeans for Genes day.
- Harvest Service was a success and well received by all the families who gave up their time to attend.
- We had the exciting appointment of our new Chair of Governors, Katie Miller.
- Educational visits have included the Year 3 and 4 trip to Stonehenge and the Year 6 Residential at Youlbury.
- On the sporting front, the year 3 and 4 football team reached the semi finals of their festival.
Finally, today we were joined by Gordon Mccracken. He inspired the pupils showing them his skills as a ventriloquist explaining that anything is possible if you work hard and never give up.
I hope all of you have a relaxing and enjoyable half term break. I look forward to welcoming you all back on Tuesday 5th November.

Mr Griffin
- Cycling Proficiency
Well done to all the cyclists (Emily, Mia, Tyler, Grace, Jamie, Stanley, Willem, Charlie & Junior) in Year 5 and Year 6 who achieved their Level 1 or Level 2 Cycling Proficiency.  A very big thank you to Mrs Pearson, Ms Cooper  and Mr Kendall for giving up so much of their time to train the children and prepare them for the exam.  Thank you


- Gordon McCracken's visit today
Today we were very lucky to be visited by Gordon McCracken and his friend Charlie, who told us the Parable of the Missing Coin.  It was very interesting and very entertaining!
- Parking
Dear parents, we have received a new complaint about the parking at school around drop off and pick up. Please refer to the letter we sent on this subject in November 2018. Thank you for your support.

"We are writing to you on behalf of the School and Charlton-on-Otmoor Parish Council about the problem of parking dangerously when children are dropped off and picked up.

Most of you are parking responsibly. But a minority continue to park in areas which should be kept clear. It is an offence to park near a school entrance, or opposite or within ten metres (32 feet) of a junction (Highway Code Rule 243). To emphasize this, white lines were painted on the road at the corners and zig-zag lines outside the school. The lives of children and adults alike are being endangered by parking vehicles incorrectly and irresponsibly.

Please ensure that you always park in a safe and responsible place when dropping your children off or picking them up.

We are also concerned that some parents are driving too fast on the approach to the school. Please ensure that you slow down and are extra vigilant. Safety must be our prime concern.

Finally, in order to reduce traffic in the area, we would like to encourage those who are able to walk to school to do so, and for residents of Merton, Fencott and Murcott to use the bus service that is provided. "

- Open Day
Open Day was a great success so thank you for supporting the children.
- Life Saving Session
The Yr 5/6 children did brilliantly during the life saving session. Well done to all of  you.
- Important dates for your diary (you can find all of those on the School Calendar):
- 4th November = INSET DAY so the school will reopen its door on 5th November

- Yr 5/6 visit to Bletchley Park: 7th November 2019

PLEASE can you ensure that your payments reach the office before the trip. Thank you.

- F1 to Yr6 trip to "Beauty & the Beast" at the Oxford Playhouse : 10th December 2019

Please fill in the Form from Kuwanda and send your payment to the office before the end of November. Thank you.

- All school, Christmas Lunch: 17th December 2019

The Form was sent to you via email earlier today so please can you fill in the menu option for your child. Thank you.



- Harvest thank you letter from Mrs Merry
- After School Clubs
Please note that the Final CAST session for Term 2 will be on Tuesday 17th Dec.

There will be no provision for After School Club on Wednesday or Thursday that week.

The Singing & Multisports Clubs will run until the week starting 9th Dec but not the last week of term.

Mr Griffin intends to continue the Football Club in November but due to the shorter days, it will cease in December.
- Recipes
Last plea for more recipes for the School Recipe Book. If you can help, please email Michell Foster at charltonschoolassociation@gmail.com. You don't need to add pictures but a good recipe and a little story to go with it would be wonderful.

Michelle is still keen to get some recipes from Yr 1/2 children.

Thank you for your support.




- Ian Taylor Photography
The proofs will be available the first or second week in November.
- PTA News
We hope everyone enjoyed the school disco last week, it was lovely to see so many children there and all their fantastic costumes. £163.26 raised, we have set a target to raise £5,000 this year so this is a great start. This year we are raising money for the Read Write Inc Programme, Logo's sports kits, Chromebooks.

Harvest Auction this Sunday 27th October 6.30pm at the Nut Tree, Murcott.

If you have any last-minute donations, please contact Michelle (07809295895) or Charlotte (01865 331339) and we can arrange collection. Ideas for donations: a bottle of wine, a box of tea bags, a homemade cake, a promise to mow someone's lawn or do their ironing. Mrs Ling has offered an evening of babysitting, you can be as imaginative as you like. Maybe you or someone you know work for a brand company and could donate. We have some great lots which have been generously donated: Holiday Cottage in St Ives for 1 week, Tasting menu for two at the Nut Tree, Pony Care Day for two at Wendlebury Stables. The Nut Tree are hosting so it will be a great night. Please come along and help raise much needed funds which will directly benefit all our children.

Cherwell Lottery. www.CherwellLottery.co.uk The school association now has a page on this site. Go onto the site and find our page, purchase a lottery ticket naming the school as the charity you wish to support.

School Cookbook. COMPETITION to design the cover of the School Cookbook Please see the attached flyer for details, entries to the school office by Friday 8th November 9am. (see poster below)

If you haven't already sent in a recipe there is still time. You can email, Charltonschoolassociation@gmail.com drop them into the office or hand to a PTA member in the playground. It's lovely to have pictures but if it's not possible just get the recipe to us asap so it can be included in the book.

AGM The Charlton School Association AGM will be held on Wednesday 6th November at 7.30pm. If you would like to nominate yourself for the committee, please submit your name, contact number and position you would like to stand for to the office by 6th November.

Upcoming Events, Save the Dates

Sunday 27th October – Harvest Auction at The Nut Tree, Murcott 6.30pm
Wednesday 6th November 19.30hrs - AGM
Friday 22nd November – Family Bingo evening
Saturday 14th December – Christmas Bazaar
Keep in contact with the committee via the playground, office or email mailto:Charltonschoolassociation@gmail.com or Facebook https://www.facebook.com/groups/149362305695629/

Launch poster for the Cherwell Lottery
School Cook Book Competition
- Calendar
The New 2020-2021 Term and Holiday Dates Academic Year is now on our website.
- Oxfordshire County Music Service
Please find some information below about the Oxfordshire County Music Service and what they have to offer to young people.
WEEK BEGINNING 21st October 2019

| | |
| --- | --- |
| Be friendly, respectful and kind | The whole Year 3 and 4 class for being respectful during the trip to Stonehenge |
| Be responsible | Emilia (Year 5 and 6) for making the right choices before break time |
| Be the best you can be | Jacob (Year 1 and 2) for always trying his best |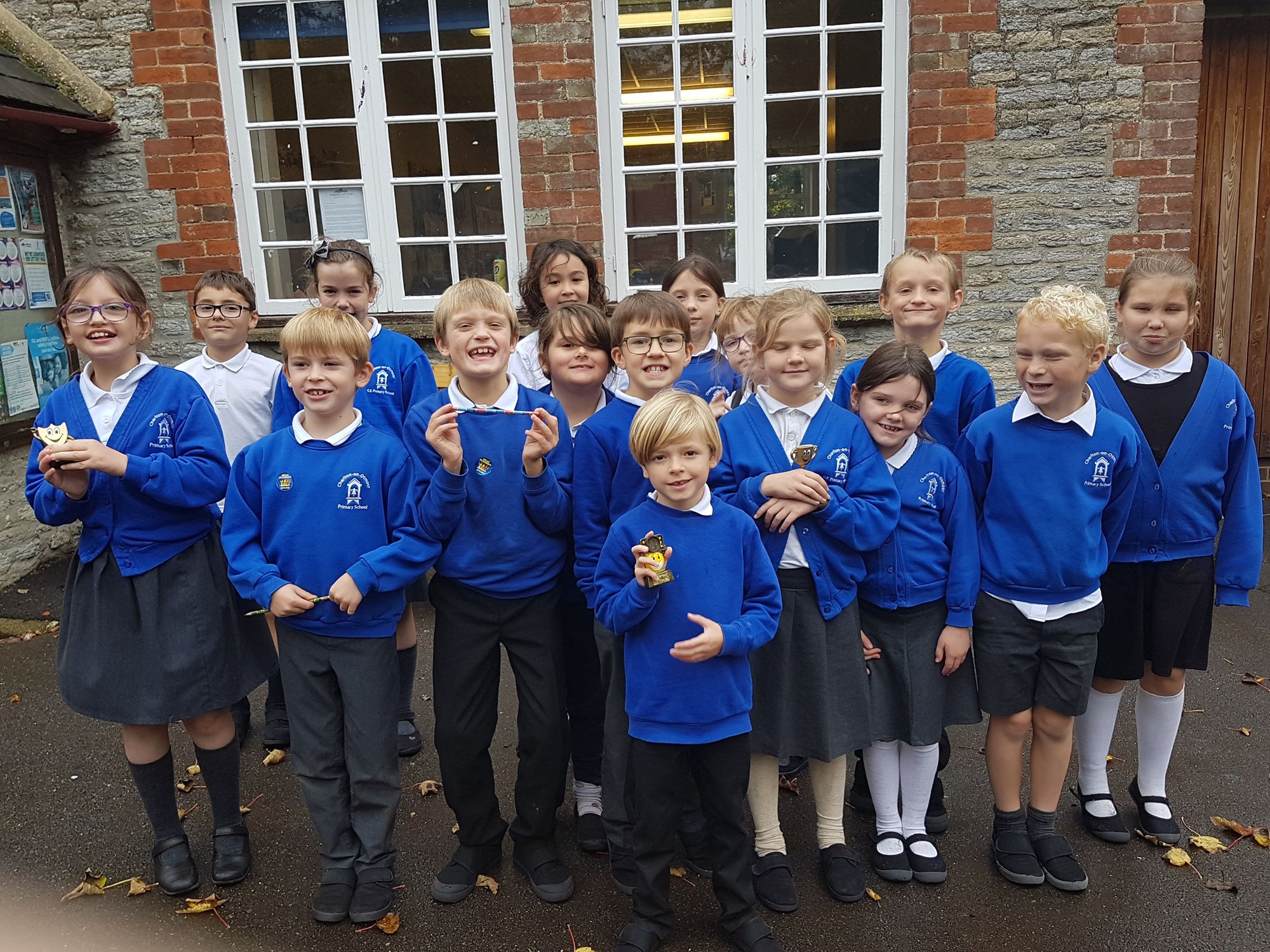 | | |
| --- | --- |
| FSU | Isla for working hard in phonics and writing |
| Yr 1/2 | Samuel for making big improvements this half term |
| Yr 3/4 | Aubrey for better understanding of key events |
| Yr 5/6 | Tia for working extremely hard every morning with Mrs Murphy |
* Samuel took the picture later after he had a bit of time to relax after the Assembly.
EVENT or NEWS OUTSIDE SCHOOL:
* Schools Health & Safety Newsletter
* Bicester Autism - Half Term Fun