This half term we will be looking at the following value:
Dear Parents,
It has been a very busy week at Charlton with children in years one to six undertaking a range of assessments enabling teachers to identify the skills and knowledge that children have acquired over the past three months. Mrs Bending, Mrs Ellam and Miss Sandford have been incredibly impressed with the children's attitude and effort.
Mrs Clarke has been working hard during the week reinvigorating the school prayer which we have added later in the newsletter. The children will say the school prayer daily and can be found in various locations across the school. The new school prayer has been revised to include the school values - your challenge over the weekend is to see if you can spot where Mrs Clarke has included each value.
Today marks the end of the year five cycling proficiency lessons. I would like to thank Mrs Pearson and Ms Cooper for their time and dedication over the past few weeks in preparing each session and working with the children to teach them an incredibly important life skill. The children have really enjoyed the lessons and it has been great to see more children cycling into school. I am very pleased to report that all the children who continued to the end showed great resilience and passed their Level 2 Cycle Training Award with flying colours. Well done to Leo, Zak, Zachary, Emily Fo., Lucas and Mitzi!
Several parents have asked whether we are allowing Christmas cards in school this year. I have spoken to the Department for Education regarding this and as with many schools am hoping to receive clarity regarding this matter within the next few days. We will inform parents as to the outcome as soon as we are made aware.
To end on a really exciting note, I would like to thank the PTA and you as parents for agreeing to fund the virtual pantomime during the final week of the term so please continue to send your donation. This will be an incredibly exciting finale to the year.
Have a great weekend
Mr Griffin
-School Prayer as mentioned by Mr Griffin
Dear God
Bless our school and all those in it.
Help us to show love, kindness and respect to each other.
Help us to tell the truth and be the best we can be in all we do.
When things are difficult help us to show resilience and strength.
Forgive us when we do things wrong and help us to forgive others who do wrong to us.
Teach us to aspire and grow together living your way.
Amen
Please can we ask you all to check your child's uniform during the Christmas break at we've had quite a few losses reported to the office and it might be that some jumpers/T-shirts went home to different families by mistake.
So please, can you have a look at your child's uniform and bring back what does not belong to him or her.
Please can I remind everyone that named labels (wherever they might be attached) are essential as otherwise it is practically impossible to know which item belongs to whom.
Thank you for your help with this.
Due to the fact that the "Salmon Nibbles" (week1 on Tuesday on the menu) have been discontinued it will be replaced by "Salmon Fishcakes". Please can you make your children aware of this. Thank you.
- New Exciting After School Club
You should all have received an email yesterday about our new exciting after school club so please do fill in the form using the following link: https://forms.gle/Bg1jvXkb47DqnHex8 before the 4th January 2021. It promises to be a lot of fun
- The Reading Agency's Everyone is a Hero, Winter Mini Challenge
Join in with The Reading Agency's Everyone is a Hero, Winter Mini Challenge
Oxfordshire Libraries and The Reading Agency are encouraging children to continue reading over the winter holidays. The Reading Agency has partnered with Knights Of children's publishers to bring you Everyone is a Hero, Winter Mini Challenge 2020.
It starts on Tuesday 1st December 2020 and finishes on Friday 15th January 2021.
Parents and carers can register their children for free at wintermini.org.uk
The children set their own reading challenge. A target of 3 books is recommended.
They can read any books for their Challenge, including eBooks or eAudio which can be borrowed for free from Oxfordshire Libraries. To give children some ideas a recommended booklist will be available on our Overdrive platform: www.oxfordshire.gov.uk/ebooks . Parents and carers can join their children to the library by visiting www.oxfordshire.gov.uk/libraries
Children can rate and review the books they have read on the Winter Mini Challenge
website to unlock virtual rewards and a downloadable Reading Hero certificate.
There will also be lots of exciting activities, book recommendations and a competition to enter.
For more information visit https://summerreadingchallenge.org.uk/news/general/winter-mini-challenge-20
You still have time (until 11th Dec) to order your Tea Towel, so please send your orders back to the office in a named envelope. You can also drop your envelope in the letter box just outside the office.
Please find a copy of the letter from the PTA below.
- Woodstock visit for KS2 - Deadline Sunday 6th December - LAST REMINDER
LAST REMINDER to Yr3/4/5/6 parents, please continue to send your consents for the visit to the Woodstock Museum in February 2021. Thank you.
- Mental Health Support Team December Newsletter
Please click on link below to open the PDF.
- Yr5/6 Residential at JCA at the end of June
Please continue to send your consents for the trip named above.
I will be sending the "Health and Diet" Google Form toward the end of May next year.
RECEPTION ADMISSION SEPTEMBER 2021
We are now accepting applications for Reception entry in September 2021 (see Key Admission Dates attached). Parents should be encouraged to apply online at www.oxfordshire.gov.uk/primaryadmissions as this is the most secure way of applying, but if parents cannot access the online process, we do have a paper form that I can send you.
Starting School Brochures are no longer being printed, but all the information contained in the Brochure is available on our admissions website.
The closing date of Reception applications is 15th January 2021, and the National offer date is 16th April 2021. The 15th January closing date is extremely important, as late applications will not be considered until May 2021 after the first offers have been made. Parents who make a late application are less likely to be offered a place at one of their preferred schools. The details of the admissions process is widely advertised in Doctors Surgeries, Libraries, Parish Councils, and made available to the 2,500 subscribers to the OCC Early Years Newsletter.
Regards
School Admissions Team
Education, Sufficiency and Access
County Hall, 4th Floor
New Road
Oxford OX1 1ND
Email: admissions.schools@oxfordshire.gov.uk
Website: www.oxfordshire.gov.uk/admissions
Poster and Admission dates on PDF below.

| | |
| --- | --- |
| Be friendly, respectful and kind | Mackenzie for being helpful and supporting another classmate when they needed help |
| Be responsible | Alby for always looking for helpful things to do in the classroom |
| Be the best you can be | Logan for trying his best during the tests this week. Logan showed resilience when questions were challenging |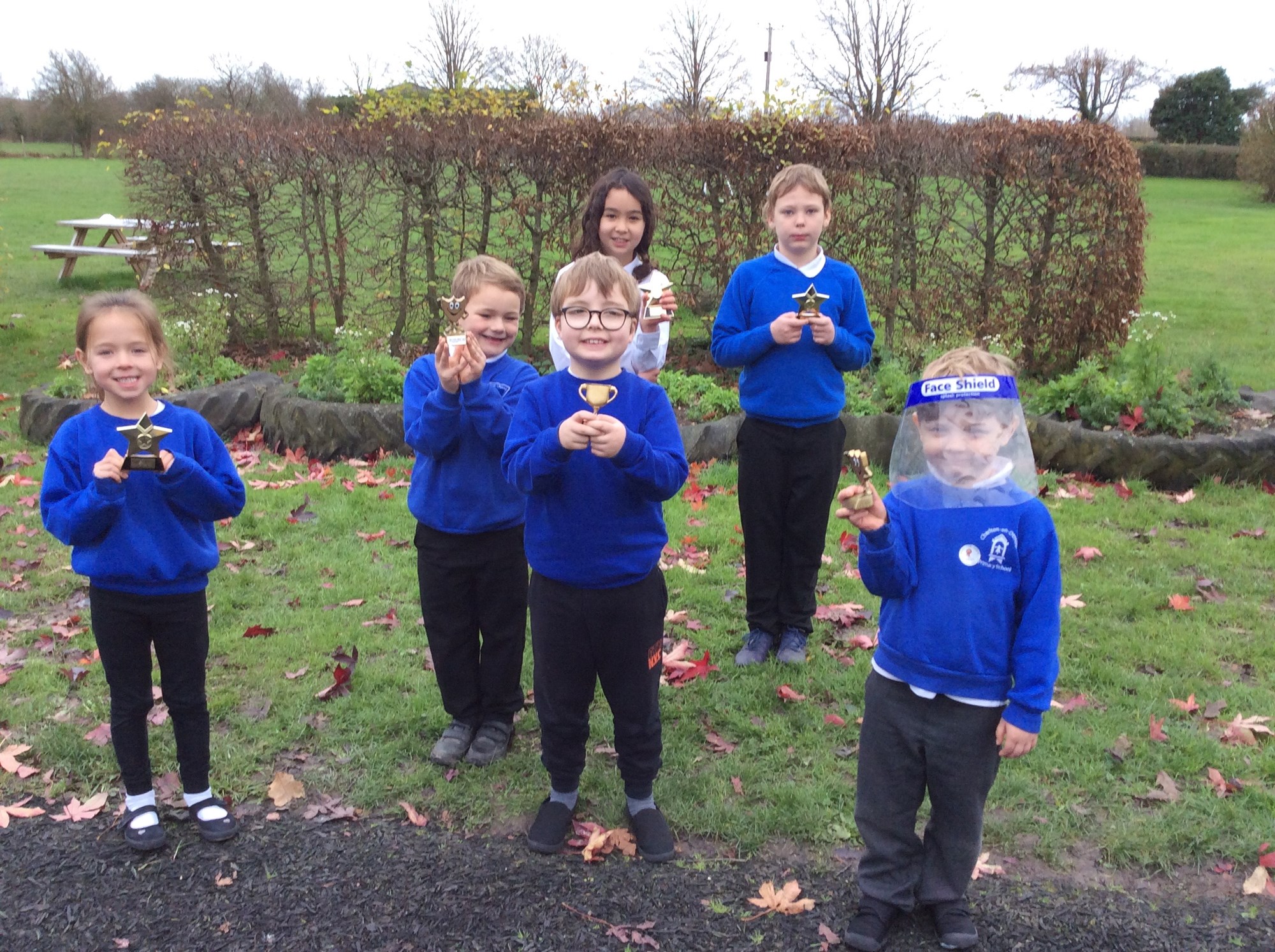 | | |
| --- | --- |
| FSU | Harry for working well in phonics |
| Yr1/2 | Chloe for her fabulous progress this term |
| Yr3/4 | Jaxon for working hard during the tests this week. He also completed an AMAZING piece of writing! |
| Yr5/6 | Lily for taking responsibility for leading the school video team and completing all of the editing |
All the children are on ONE photograph today!
The Walnut Tree Charity Bookshop on Sat 5th Dec from 1.30pm-4.00pm
Please click on link below to open the PDF file
The Oxford Philharmonic Orchestra
This Christmas, the musicians of the Oxford Philharmonic Orchestra have put together a fun festive video perfect for watching in school, or at home with family. It features a brass quintet playing some of our favourite Christmas tunes, from Deck the Halls to Feliz Navidad, as well as fab Christmas jumpers and tonnes of tinsel. It's available on our YouTube channel now - for free!
In addition to the video, we're hosting a fun Christmas competition. Using the worksheet attached to the video, design your own Christmas jumper and send a photo back to me (
opomarketing@oxfordphil.com
). We'll choose a winner, and send them a special hello from one of our musicians!
Enjoy!