This half term we will be looking at the following value:
Dear Parents,
I would like to thank all of you who sent back the remote learning questionnaires. The feedback was incredibly useful and will help us to review our online provision.
We were very pleased to read that 100% of families, who completed the questionnaire, believe their child is receiving the right amount of work and getting the right amount of feedback from teachers.
The report indicated that some pupils are still finding it challenging to engage in remote learning especially when it comes to motivation. This is something which I will discuss with the teachers and see what we can do to support you in engaging your child. A starting point for parents with children in years one to six is to attend all of the daily Google Meets, this will provide a forum to ask questions about the learning and to talk to your teacher about any aspect of home learning. If you have specific questions for teachers, please do contact them via email or phone the school office and we will ensure that your question is brought to their attention.
Below is a summary of the responses which we received: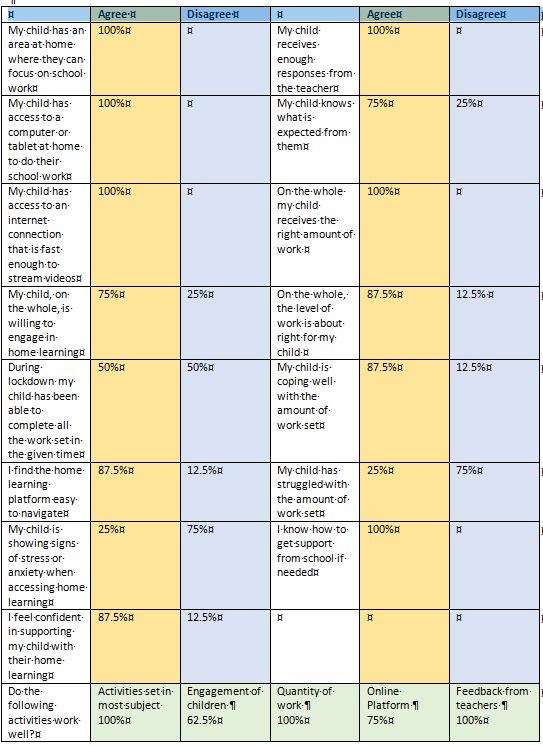 To keep children's body and mind healthy, we recommend that pupils try to do some kind of physical exercise each day (outside if possible). We do appreciate that the weather hasn't been particularly kind over the past few weeks.

Finally, I would like to share with you the exciting news that we had a substantial amount of interest in the teaching vacancies at Charlton. We shortlisted yesterday and will be interviewing on Tuesday and Wednesday next week. I hope to be able to share more news with you on the outcome of these interviews before half term.
Have a great weekend
Mr Griffin
- Important information from Mrs Griffin
In order to keep everyone safe during this difficult time, can I remind all our families of the Government rules and restrictions during this national lockdown on meeting others:
Meeting others
You cannot leave your home to meet socially with anyone you do not live with or are not in a support bubble with (if you are legally permitted to form one).
You may exercise on your own, with one other person, or with your household or support bubble. This should be limited to once per day, and you should not travel outside your local area.
Stay 2 metres apart from anyone not in your household or support bubble.
For further information, please visit the Government website:
https://www.gov.uk/guidance/national-lockdown-stay-at-home#meeting-other-people
Using Google Classroom appropriately
Can I remind pupils that posting on the Google Stream is for work related questions and should not be used for any other reasons, thank you
- The children who received their Virtual Certificates this afternoon for excellent work are:
FSU
Teddie
Alby
Lily
KS1
Isla
Niamh
Oliver

Yr3/4
Jacob
Tom

Yr5/6
Emily Fo
Mitzi
Willem
Kara
Well done to all of you! Keep up the good work.
- Google Classroom access via Xbox of PS4
If your children are struggling with sharing devices between siblings, it is possible to access Google Classroom through your child's Xbox and PS4.

- Reading Milestones

FSU
William 125
Daisy and William 125
Huxley 100
Y1
Jaxon-Lee 100
Y2
Amber 125
Niamh 150
Y3
Henry 125
Amelia 100
Brody 150
Archie 125
Y4
Ruby 75
Neive 150


Y5
Emilia 150
Willow 100
Y6
Emily 150


- Mental Health Support Team lastest Newsletter

- Helen Arkell Dyslexia Charity
At Helen Arkell Dyslexia Charity, we have been granted a sum of money by National Lottery Awards for All so that we can offer free places on our HELP Parents Course to lower-income families. The courses help parents of children with dyslexia to support them at home with reading, spelling, maths and study skills. There are six online 1.5-hour sessions with support slides and recordings available if the parent cannot attend live. This is especially helpful while lots of children are doing their lessons at home.

- Message from Mrs Ellam - Week 3
How did you all get on with last week's activities? Please send us your photos of some of the things you get up to during your Family Friday or Well-being Wednesday (or maybe you do Silly Saturday!).
Here are some more activities to keep you active this weekend and having fun.


Don't forget to look on Google Classroom for the February Challenge too!

- Message from Cherwell District Council
Cherwell District Council is able to help people who are struggling to afford food and stay warm this winter. The Winter Support Grant scheme is available for households that have been hardest hit by the coronavirus pandemic. The support is available through Citizens Advice North Oxfordshire, in the form of advice, supermarket and fuel vouchers or through the direct payment of energy or water bills.
If you are a Cherwell resident and you are struggling to afford food or pay your fuel bills, you may be eligible to receive help. Get in touch with Citizens Advice North Oxfordshire for further guidance. Or if you know of someone who is struggling please tell them to get in touch:
Please note:
Only one member (over the age of 18) per household can apply, and they must live in Cherwell district.
The Winter Support Grant will be available until the end of March 2021.
A few boxes have been left behind at school the last few weeks (see picture) so if you recognise one or more of them as beeing yours, please do contact the office to collect them. Thank you.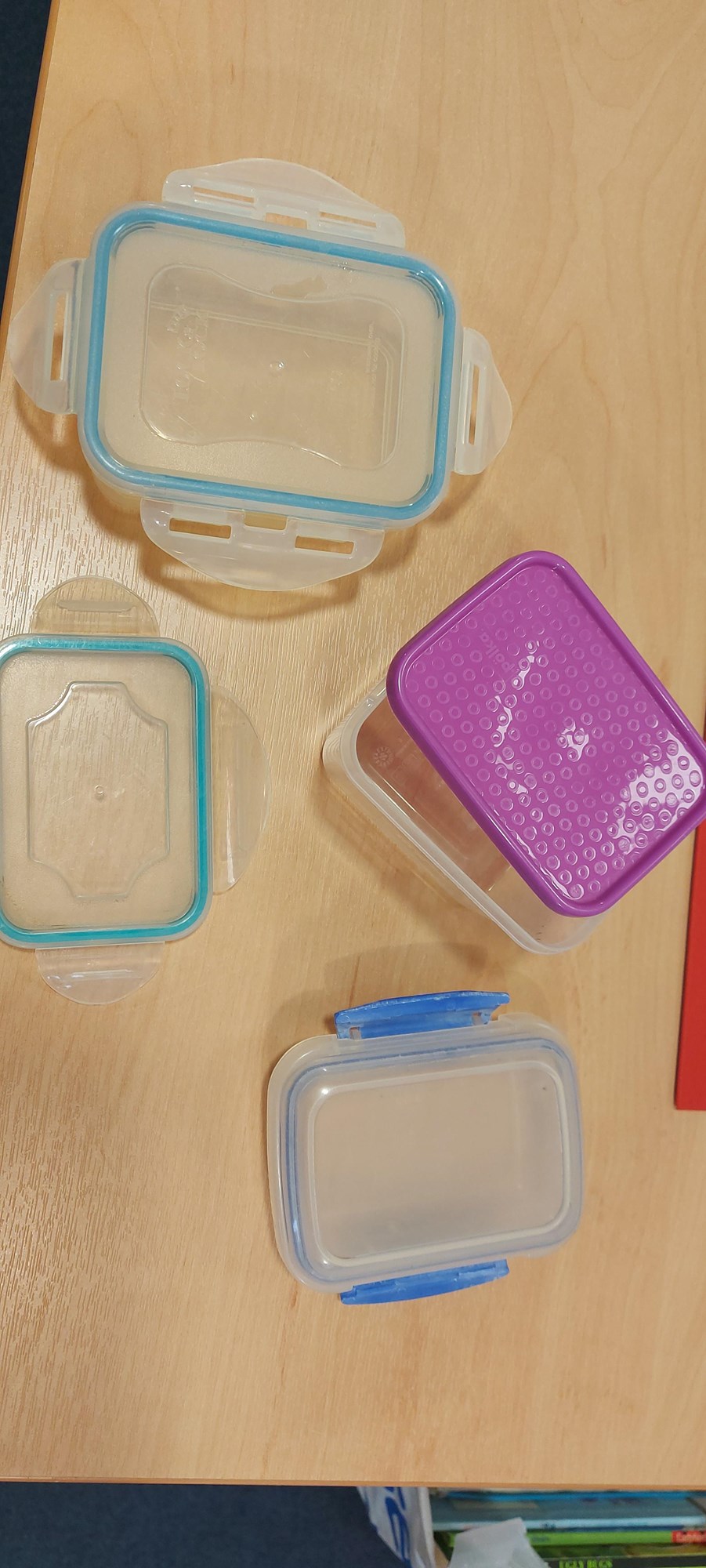 - PE information for the two bubbles = REMINDER
Bubble A - PE will take place on Monday and Wednesday (FSU and KS1)
Bubble B - PE will take place Thursday and Friday (KS2)
Please can you ensure that the children come to school appropriately clothed for those two days. Thank you.