Newsletter 17th January 2020
This half term we will be looking at the following value:
We have had an exciting week of learning at Charlton. This afternoon we were visited by Andrew Crossley from the RSPB Otmoor Team who delivered an assembly telling the children how they can get involved in the Big Schools' Birdwatch 2020. (See picture below).

Every year, schools from every corner of the UK take part, turning their classes into conservation scientists and helping the RSPB team track the ups and downs of birds across the country. We plan to hold this event within the next few weeks and will then be able to share the results with you.

It was an exciting afternoon for children from years One to Six as they used their knowledge from the assembly to design their own birds thinking about 5 key aspects of the bird; their size, colour, food, habitat and super power needed to survive.

Walking around the school, I have been very impressed with the behaviour and attitude of children towards one another; pupils have been showing that they understand what it means to be kind and this is being reflected in their choices.

During the first two weeks of this term our whole school attendance has been 98.20%. Last term the percentage was 96.86%. Our aim this term is to be over 97% and it is impressive to see that we have started well in trying to achieve this goal.

Have a great weekend.
Mr Griffin
- Swimming Event on Thursday
A big well done to the children in Year 5/6 who represented the school brilliantly at the swimming event in Bicester this week. Not only did they behave impeccably as a team, they showed sporting behaviour throughout. In all the relay races, Charlton came second. In the individual heats, Charlton achieved a first place and two second places. Even though the team didn't win all their races, we are very proud of the way all the children swam as hard as they could. Well done!
- CAST
The team is really enjoying their new role in CAST. They would welcome any feedback (i.e.: things the children enjoy or would like to see happen or things that can be improved) so don't hesitate to contact them.

CAST will run as usual in the next few weeks but some ideas might be brought forward afterwards. However, we will inform parents of the changes well in advance.

Remember that all children are welcome to attend CAST (including Nursery children). The cost is £5.00 per session (Early session is from 3.30 pm - 4.30 pm and Late session is from 4.30 pm - 5.30 pm) and it includes a snack, a drink and some vegetables.
- Open Morning
Our Open Morning will take place on Friday 6th March from 9.10 till 10.00 am. Please come and see what your children have been up to.
- Poppy Appeal
The school has raised £39.35 for the Appeal out of a total of £971.62 for the village. Thank you.
- Thank you
A big thank you to the PTA for helping the school buy Tudor costumes to enhance the children's Tudor topic. See pictures below.
- Percy Collett
Just to remind parents that the Parish Council Election will be taking place all day on Thursday 23rd January in the Percy Collett room.
- Plea
Des parents, if you have any googles, swimming hats and shin pads that you no longer need/use or are too big for your children, please feel free to donate them to the school so that we can start building our supplies. Thank you very much for your support.
- After School Clubs
REMINDERS:

- Monday = Multisports with Mr Wells = COST => £30 (I have assigned the children who have been going recently so please can you pay for the club if you haven't done so already).

- Tuesday = Yr 1/2 & KS2 Singing Club with Mrs Roberts = COST => £30 (I have assigned the children who have been going recently so please can you pay for the club if you haven't done so already).

- There are no clubs on Wednesdays or Thursdays but the children can attend CAST.

- Friday= Street Dancing with Rattle & Roll (please don't forget to pay Rattle and Roll directly if your child is attending the club).

The Football Club will start again with Mr Griffin on Thursday 5th March for 5 sessions ( until half term) so please do let us know if your child is interested.
- Important dates for your calendars (which can also be found on the school calendar)
- 31st January 2020 = Yr 5/6 at the Oxfordshire Youth Orchestra Concert at the Sheldonian

- 6th February = Yr 5/6 at Bicester Area In2Hockey at the Cooper School

- 10th February 2020 = Yr 5/6 Junior Citizens trip

13th February = Yr3/4 Multiskills at the Cooper School

- 4th March 2020 = Yr 1/2 visit to the Science Oxford Centre

- 17th from 3.30pm till 5.30pm & 18th March from 6.00pm till 8.00 pm = PARENTS' EVENING - you will be able to book your slot between 2nd & 15th March 2020

- 19th March 2020 = Yr1/2 Multiskills Festival at the Cooper School

-28th April 2020 = Yr 3/4 visit to Stratford Upon Avon for "Getting to know Will Workshop"

- 10th/12th June 2020 = PGL Residential Trip to Liddington for the Yr5/6. The form is available on the School Life App under TRIPS. Parentpay is already available for payment. You cannot pay with Childcare Vouchers for this trip.

- 8th/9th October 2020 = Yr5/6 at Youlbury
- PTA News
Present Amnesty Thank you to everyone for donating items in the present amnesty. It's never too late to donate an item which you think would make a good prize via the school office.

Rags to Riches We have arranged another rags to riches collection for Tuesday 11th February, collection bags will be coming out via bookbags soon, but in the meantime any bag will do. They collect clothes (no logo school uniform), bedding (duvet covers, sheets and pillowcases only), towels, paired shoes, handbags and soft toys. Everything is sold on so it must be good quality not stained, ripped or damaged.

Spring Disco The children love a disco and the next one is planned for Friday 14th February from 5.30pm to 7pm.

Internet Shopping Just a reminder if you are online shopping, think about signing up to the Easy fundraising scheme and Amazon smile both of which donate a percentage of the spend to the school https://www.easyfundraising.org.uk/causes/charltononotmoor/

Cherwell Community Lottery We have a page on the Cherwell Community Lottery through which we can raise money for the school. It is a weekly online lottery with the draw taking place on Saturday evening at 8pm. Each ticket costs £1 per week and consists of six numbers, the more numbers you match in the draw the bigger the prize you win, top prize is £25,000. Players choose who their ticket purchase will support, by choosing Charlton on Otmoor School Association 50p per ticket will be donated to the school. You can sign up to do this as a one off or by a monthly direct debit. Let friends and family know too they might like to get involved. For more information or to buy tickets call 01295 533322 or visit https://www.CherwellLottery.co.uk

If you would like to speak to a committee member or find out more about the PTA please contact us via the playground, office or mailto:Charltonschoolassociation@gmail.com https://www.facebook.com/groups/149362305695629/

Upcoming Events, Save the Dates:
Rags to Riches collection – Tuesday 11th February

Spring Disco – Friday 14th February

World Book Day – Thursday 5th March

Easter Fun – Friday 3rd April



- Oxfordshire County Music Service
StudiO2 Orchestra in Bicester

Below are two different (free) workshops on offer to KS2 children:


One is a fabulous opportunity for the

brass players

to get some experience playing as part of an orchestra, with simplified parts specially written for First Access pupils.
The other is a workshop for children who have always wanted to try an instrument but never had the chance!



1 - StudiO2 Orchestra: CALLING ALL BRASS PLAYERS!

We are delighted to invite you to come along and play in an exciting new ensemble in Bicester called the StudiO2 Orchestra!

We are launching the orchestra with a FREE one-off workshop on Tuesday 28th January, 4:30 – 6 pm, taking place at StudiO2, Cemetery Road, Bicester, OX26 6BB.

This will give you a chance to learn some new music and experience being part of an orchestra.

The workshop is free of charge but places are limited so parents: please book your child's place ASAP by emailing jonathon.wakefield@oxfordshire.gov.uk.

Hope to see you there!



2 - Give It a Go Band: ALWAYS WANTED TO PLAY A MUSICAL INSTRUMENT BUT NEVER HAD THE CHANCE? (Ages 7+)

We are delighted to invite your child to come along and play in an exciting new ensemble in Bicester called the Give It a Go Band!

The Give it a Go Band is a wonderful opportunity to learn an instrument you have never played before and enjoy making music with others as part of a band.

We are running a FREE workshop on Tuesday 4th February, 4:30 – 6 pm, taking place at StudiO2, Cemetery Road, Bicester, OX26 6BB.

Instruments will be provided for the workshop, with a choice of woodwind, brass and strings available.

This workshop is free of charge but places are limited so please book your place ASAP by emailing me at jonathon.wakefield@oxfordshire.gov.uk.

Hope to see you there!
WEEK BEGINNING

| | |
| --- | --- |
| Be friendly, respectful and kind | Jaxon B for opening and holding the door for Mrs Towler and for being really polite and kind in class |
| Be responsible | Phoebe for taking on the role of a lead learner & support her friend with reading in class |
| Be the best you can be | Yr 5/6 swimming team (Hope, Hannah, Emily, Mia, Wilf, Finn, Edward & Willem) for being fabulous at the swimming gala. |

| | |
| --- | --- |
| FSU | Blake for being responsible, kind and helpful towards the new children, making them feel welcome |
| Yr 1/2 | Tom for settling in school so well and joining in |
| Yr 3/4 | Emilia F for using original ideas in her writing |
| Yr 5/6 | Noah for always settling to his work and challenging himself |
EVENT or NEWS OUTSIDE SCHOOL:
* February HUB (School Games Organiser - North Oxfordshire School Sport Partnership)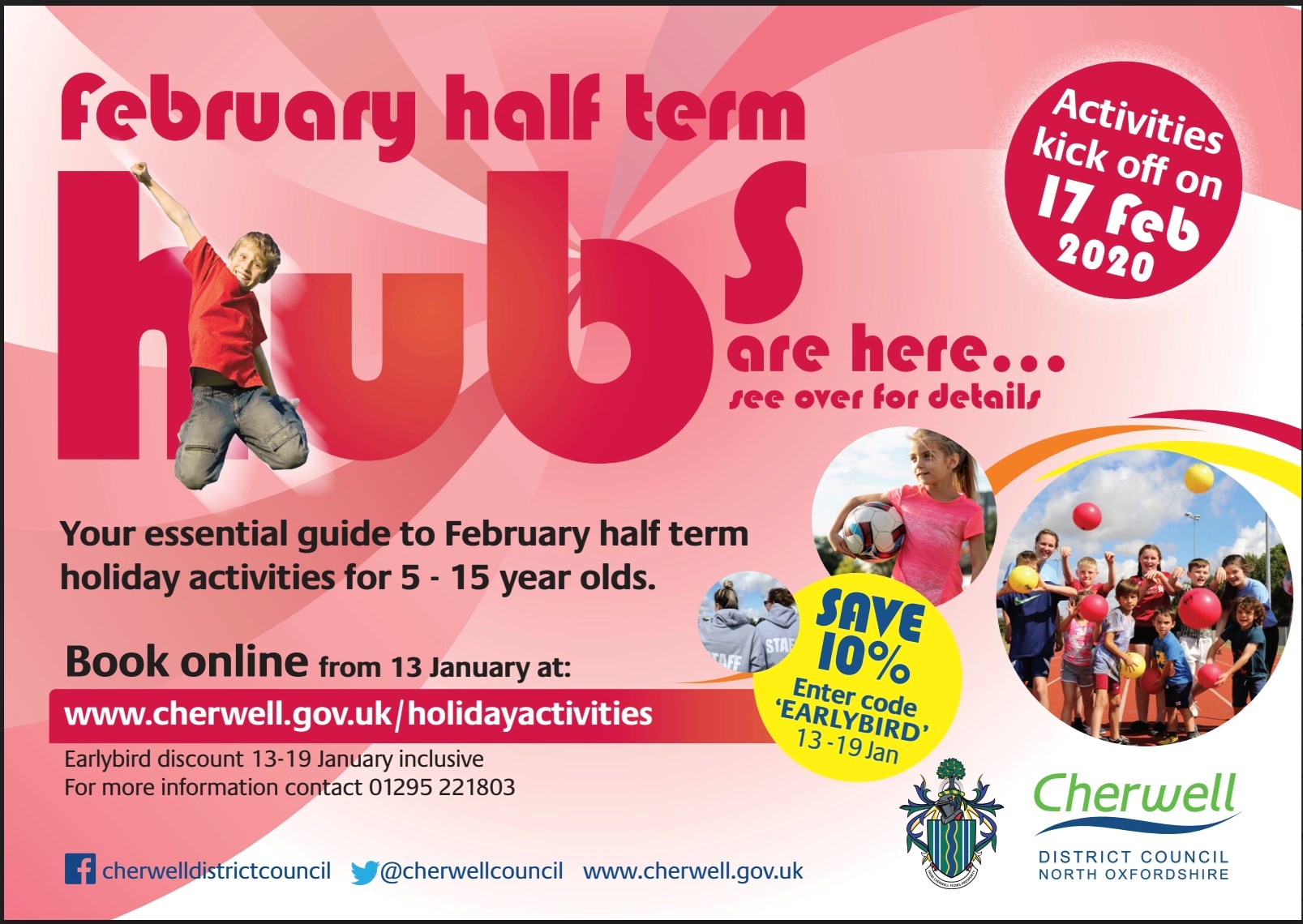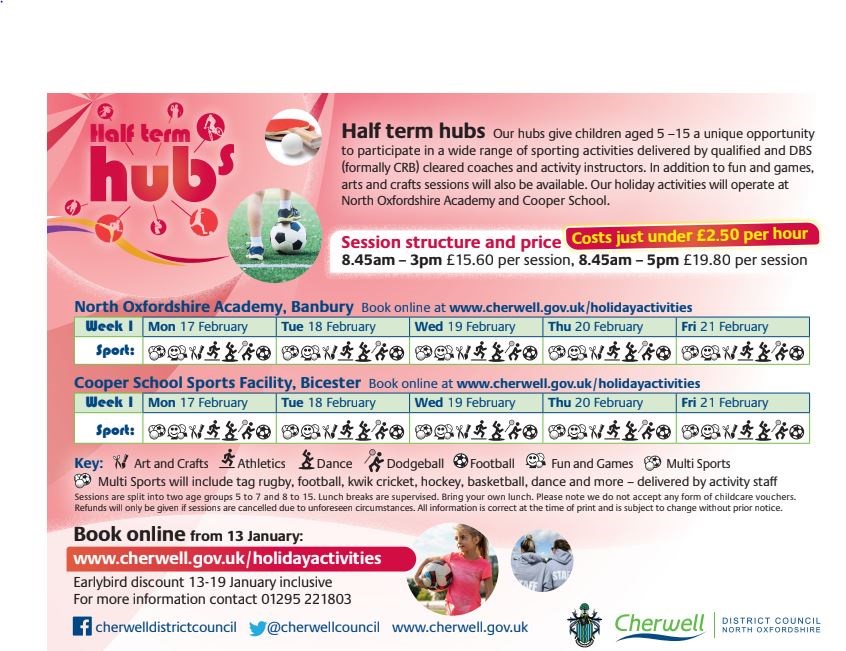 For the full poster, please click below:
* Bure Park Juniors - Disability Youth Football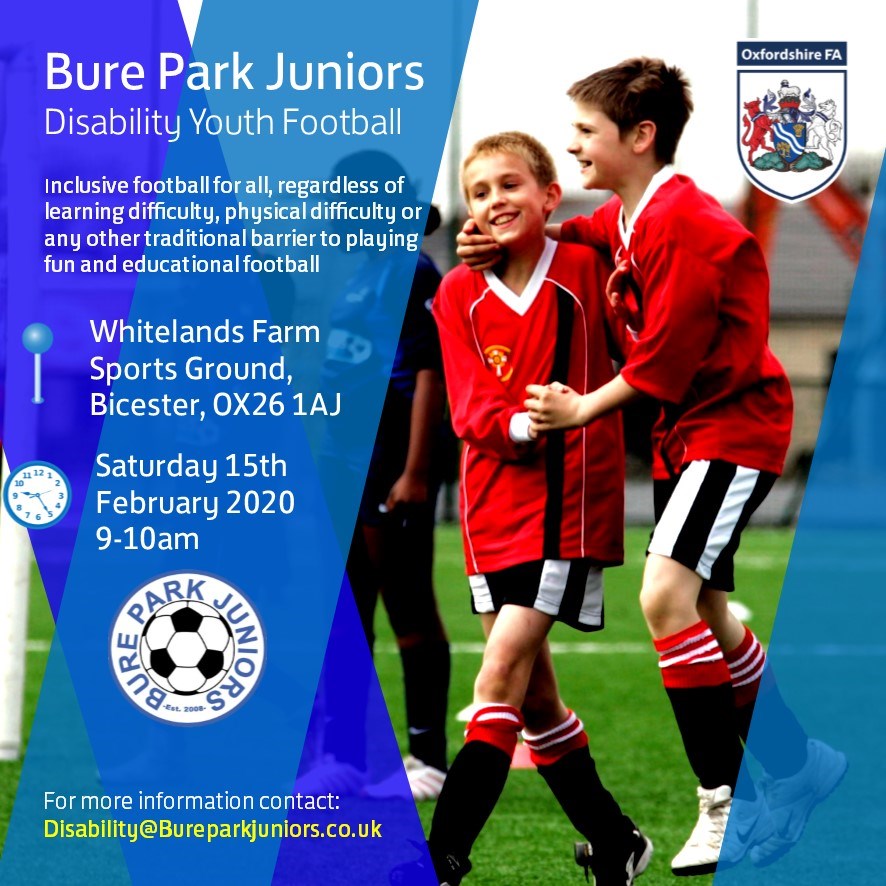 * Survey
Message from Oxfordshire Clinical Commissioning Group

Oxfordshire County Council would like to hear your views on smoking and local stop smoking services in Oxfordshire. Whether you are a smoker, have never smoked or an ex-smoker we are interested in your opinions.
This survey will take around 10 minutes to complete. Thank you for taking the time to complete the questionnaire - your responses are important to us and will help to us plan how we reduce the number of people who start and continue to smoke in Oxfordshire. The survey closes on Friday 14 February.