This half term we will be looking at the following value:
Dear Parents and Carers,
Please click https://forms.gle/rQiJfUKgeodYs2tY8  to find a questionnaire relating to the online provision which has been offered since the start of the third lockdown (please click on the atttached link ) . As a school we are always looking to improve the quality of education and your responses will allow us to review our approach to remote learning ensuring that we consistently adapt our teaching to the need of the children.
The Department for Education recently announced that it would be starting a programme of asymptomatic Covid-19 testing in primary schools, school-based nurseries and maintained nursery schools. I am pleased to inform you that Lateral Flow Device tests arrived this morning and will be made available to all staff who work within the school. Through testing, we will help to reduce the spread of the virus and support staff, pupils and parents in making the school a safer working environment.
Mrs Ellam has informed me that she will be leaving Charlton-on-Otmoor at the end of the Spring Term. Mrs Ellam has been instrumental in recent years introducing Read Write Inc to the school, has confidently led our year five and six class and supported in the development of the curriculum. She has also been influential in settting up our remote learning platform during this pandemic. We will be disappointed to see Mrs Ellam leave and wish her all the best as she moves onto the next stage of her career. 
With Mrs Bending and Mrs Ellam departing at the end of the term, I have already began the process of advertising for two new outstanding teachers to join our team to take Charlton onto the next stage of our journey. I am pleased to inform you that we have already had significant interest and hope to share more news regarding the recruitment process within the next few weeks.
I wish you all a relaxing and enjoyable weekend. Thank you for your continued support.
Mr Griffin
Stay at home – COVID kills
Cases are rising extremely quickly across Cherwell – we're now one of the top 50 most affected areas in England.
COVID loves a crowd and as people continue to mix, it's spreading fast.
One in three people with COVID don't know they have it, but increasing numbers are being affected – and are dying. So, in order to minimise the risk to you and your loved ones, act like you've got it.
The vaccine will not start to have an influence for some weeks – and so the only weapon we have is to stay at home and avoid mixing.
Only go shopping when essential
shop alone and locally
keep two metres apart from others
wear a face covering
remember that outdoor exercise is only allowed once per day.
This is real, it's affecting our economy, our children, our healthcare system and our own lives. We need to act now to stop the spread. For more information, visit Coronavirus (COVID-19) | Oxfordshire County Council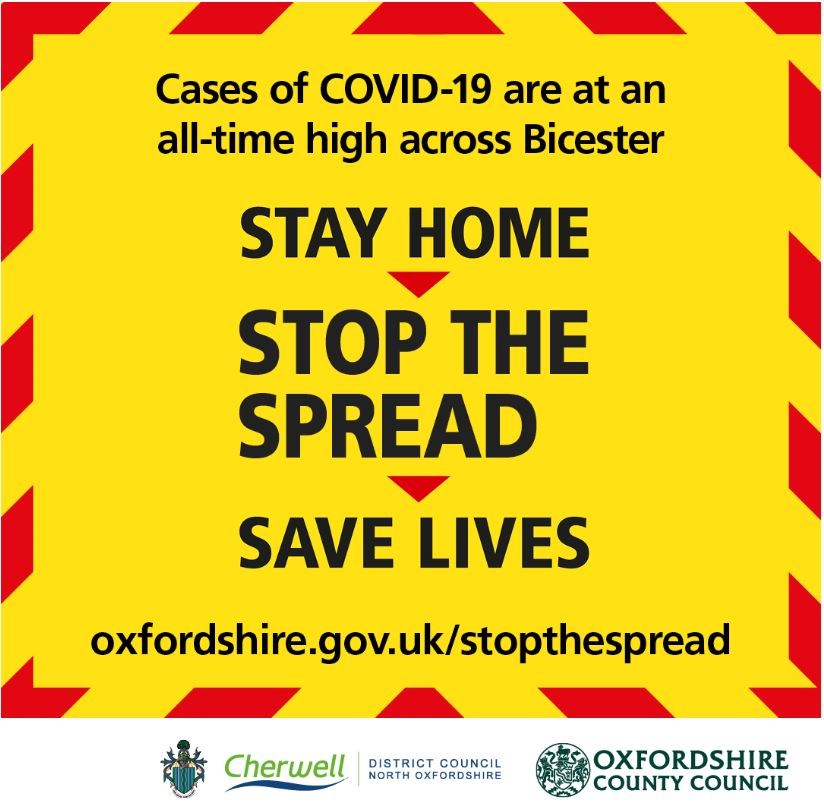 Staying active is a great way to keep our spirits up during challenging times. Have a go at some, or all, of these activities and send us your photos for next week's newsletter. There's enough to keep you going all week! It could become part of your Family Friday activities or your daily wellbeing non-screen half hour. But most importantly, have fun and get moving!
Here are this week's shout outs for those who reached a Reading Record Milestone...Well done everyone for keeping up with reading.
Year 1
Emily 125 nights
Oliver 125 nights
Year 2
George 75 nights
Chloe 75 nights
Year 4
Rufus 75 nights
Year 5
Emily foster 125
Year 6
Willem 150 nights
- PE information for the two bubbles = REMINDER
Bubble A - PE will take place on Monday and Wednesday (FSU and KS1)
Bubble B - PE will take place Thursday and Friday (KS2)
Please can you ensure that the children come to school appropriatly clothed for those two days. Thank you.