Newsletter 24th January 2020
This half term we will be looking at the following value:
Dear Parents,

It has been an exciting and eventful week at Charlton.

We have had lots of visitors come to the school this week. On Tuesday we were joined by a maths specialist who looked at the impact our new maths scheme, White Rose, is having on children's learning. They spoke to Mrs Bending and Mrs Styler looking at ways to continually improve the quality of learning within the school. One of our aims in maths is to ensure that children are consistently challenged.

On Wednesday, the school had an Early Years Adviser focusing on the quality of provision our younger children receive. This proved to be a very positive visit and I wanted to share with you a quote from the maths lesson she observed:

'The children were engaged and given the opportunity to explain their mathematical thinking. The resources were attractive and the activity well matched to the children's next steps. Children's alternative approaches to the task were encouraged and valued.' I am sure you will agree that this is very positive feedback.

Today, Mrs Ellam and the teachers worked with a writing specialist to look at ways writing is taught and marked. This was a very useful experience and provided us as a school with strategies to support your child in their learning.

With all the experts working in school this week, I have been teaching in different classes across the school. I would like to report that children have been engaged in their learning and I was particularly impressed with the concentration shown by the year 3 and 4 children when doing their independent NEWT writing.

Finally, I would like to end this week's communication with you by asking and reminding parents to try to book for CAST in advance. Letting the school know a few days beforehand if your child is staying helps with the organisation and preparation. If you pay for CAST using childcare vouchers, please phone the school to book for the sessions.

Have a great weekend.
Mr Griffin
- Attendance
The attendance this week is 96.27%.
- Open Morning
Our Open Morning will take place on Friday 6th March from 9.10 till 10.00 am. Please come and see what your children have been up to.
- Well done to the Kendall Children
Mrs Wells was really impressed to see all three Kendall children taking part in Bicester's first ever Junior Park run at Whitelands Sports centre on Sunday. It was a really cold morning but this certainly did not put them off! Beatrice, Beau and Brodie showed excellent enthusiasm and determination to keep going for the whole 2km course. Well done all!
- Plea
Des parents, if you have any goggles, swimming hats and shin pads that you no longer need/use or are too big for your children, please feel free to donate them to the school so that we can start building our supplies. Thank you very much for your support.
- Year 3/4
Dear parents, the children will be doing "Animation" with their IPads on Monday during their computing lesson and Mrs Bending is happy for the children to bring little figures (plastic soldiers, playmobiles or legos) but they need to be in a named plastic bag which will go back home with the children at the end of the day.
- After School Clubs
REMINDERS:

- Monday = Multisports with Mr Wells = COST => £30 (I have assigned the children who have been going recently so please can you pay for the club if you haven't done so already).

- Tuesday = Yr 1/2 & KS2 Singing Club with Mrs Roberts = COST => £30 (I have assigned the children who have been going recently so please can you pay for the club if you haven't done so already).

- There are no clubs on Wednesdays or Thursdays but the children can attend CAST.

- Friday= Street Dancing with Rattle & Roll (please don't forget to pay Rattle and Roll directly if your child is attending the club).

The Football Club will start again with Mr Griffin on Thursday 5th March for 5 sessions ( until half term) so please do let us know if your child is interested.
- PTA News
Rags to Riches
Bags for the next Rags to Riches collection will be coming out via bookbags next week, ready for the collection on Tuesday 11 th February. They collect clothes (no logo school uniform), bedding (duvet covers, sheets and pillowcases only), towels, paired shoes, handbags and soft toys. Everything is sold on so it must be good quality not stained, ripped or damaged.

Spring Disco
The children love a disco and the next one is planned for Friday 14 th February from 5.30pm to 7pm, all school pupils welcome – FSU children to be accompanied by a parent. Look out for the booking form in bookbags.

Cookbook
The cookbook has been a great success and so far, raised over £550, which is amazing, a massive thanks to everyone who supported the project and purchased one. It's not too late if you would like to buy a book, we have them on sale via the school office or ask a PTA committee member. There are also a few jars of delicious school chutney if you fancy making a purchase.

Internet Shopping
Just a reminder if you are online shopping, think about signing up to the Easy fundraising scheme and Amazon smile both of which donate a percentage of the spend to the school https://www.easyfundraising.org.uk/causes/charltononotmoor/

Cherwell Community Lottery
If you fancy trying your luck on the Cherwell Community Lottery, top prize is £25,000 and choose to support Charlton On Otmoor School 50p per ticket sold will be donated to the school. You will also be supporting other local projects with 10p of every ticket sold going to them. You can sign up to do this as a one off or by a monthly direct debit. Spread the word and let friends and family know too they might like to get involved. For more information or to buy tickets call 01295 533322 or visit https://www.CherwellLottery.co.uk.

If you would like to speak to a committee member or find out more about the PTA please contact us via the playground, office or mailto:Charltonschoolassociation@gmail.com

https://www.facebook.com/groups/149362305695629/

Upcoming Events, Save the Dates:
Rags to Riches collection – Tuesday 11 th February
Spring Disco – Friday 14 th February
World Book Day – Thursday 5 th March
Easter Fun – Friday 3 rd April
- Important dates for your calendars (which can also be found on the school calendar)
- 31st January 2020 = Yr 5/6 at the Oxfordshire Youth Orchestra Concert at the Sheldonian (if you haven't paid for the trip, please can you do it as soon as possible)

- 6th February = Yr 5/6 at Bicester Area In2Hockey at the Cooper School

- 7th February = Coffee Church/Family Service with Rev Lisa

- 10th February = Yr 5/6 Junior Citizens trip (if you haven't paid for the trip, please can you do it as soon as possible)

- 13th February = Yr3/4 Multiskills at the Cooper School

- 4th March = Yr 1/2 visit to the Science Oxford Centre

- 5th March = WORLD BOOK DAY (more on this later)

- 17th from 3.30pm till 5.30pm & 18th March from 6.00pm till 8.00 pm = PARENTS' EVENING - you will be able to book your slot between 2nd & 15th March 2020

- 19th March = Yr1/2 Multiskills Festival at the Cooper School

-20th March = Mothers' Day Service and Lunch

- 3rd April = Easter Church Service at St Mary's Church

-28th April 2020 = Yr 3/4 visit to Stratford Upon Avon for "Getting to know Will Workshop"

- 10th/12th June 2020 = PGL Residential Trip to Liddington for the Yr5/6. The form is available on the School Life App under TRIPS. Parentpay is already available for payment. You cannot pay with Childcare Vouchers for this trip.

- 8th/9th October 2020 = Yr5/6 at Youlbury
- Oxfordshire County Music Service
StudiO2 Orchestra in Bicester

Below are two different (free) workshops on offer to KS2 children:


One is a fabulous opportunity for the

brass players

to get some experience playing as part of an orchestra, with simplified parts specially written for First Access pupils.
The other is a workshop for children who have always wanted to try an instrument but never had the chance!



1 - StudiO2 Orchestra: CALLING ALL BRASS PLAYERS!

We are delighted to invite you to come along and play in an exciting new ensemble in Bicester called the StudiO2 Orchestra!

We are launching the orchestra with a FREE one-off workshop on Tuesday 28th January, 4:30 – 6 pm, taking place at StudiO2, Cemetery Road, Bicester, OX26 6BB.

This will give you a chance to learn some new music and experience being part of an orchestra.

The workshop is free of charge but places are limited so parents: please book your child's place ASAP by emailing jonathon.wakefield@oxfordshire.gov.uk.

Hope to see you there!



2 - Give It a Go Band: ALWAYS WANTED TO PLAY A MUSICAL INSTRUMENT BUT NEVER HAD THE CHANCE? (Ages 7+)

We are delighted to invite your child to come along and play in an exciting new ensemble in Bicester called the Give It a Go Band!

The Give it a Go Band is a wonderful opportunity to learn an instrument you have never played before and enjoy making music with others as part of a band.

We are running a FREE workshop on Tuesday 4th February, 4:30 – 6 pm, taking place at StudiO2, Cemetery Road, Bicester, OX26 6BB.

Instruments will be provided for the workshop, with a choice of woodwind, brass and strings available.

This workshop is free of charge but places are limited so please book your place ASAP by emailing me at jonathon.wakefield@oxfordshire.gov.uk.

Hope to see you there!
WEEK BEGINNING

| | |
| --- | --- |
| Be friendly, respectful and kind | Mia (Yr5/6) for being polite and respectful towards Mrs Towler when asking for her help |
| Be responsible | Willow for being a hard learner in Yr3/4 & supporting others with their maths |
| Be the best you can be | Beatrice/Beau/Brodie for completing Bicester's first junior park run |
*Sadly Brodie was not in school for the photo

| | |
| --- | --- |
| FSU | Jamie for wonderful independent writing and marvellous independent maths |
| Yr 1/2 | Fletcher for being such a superstar with all his work, especially maths |
| Yr 3/4 | Leo for his fabulous NEWT writing |
| Yr 5/6 | Jamie for fantastic improvement in his handwriting |
* Sadly Jamie was not around for the photo either.
EVENT or NEWS OUTSIDE SCHOOL:
* Be on A Show and Let's get Cooking!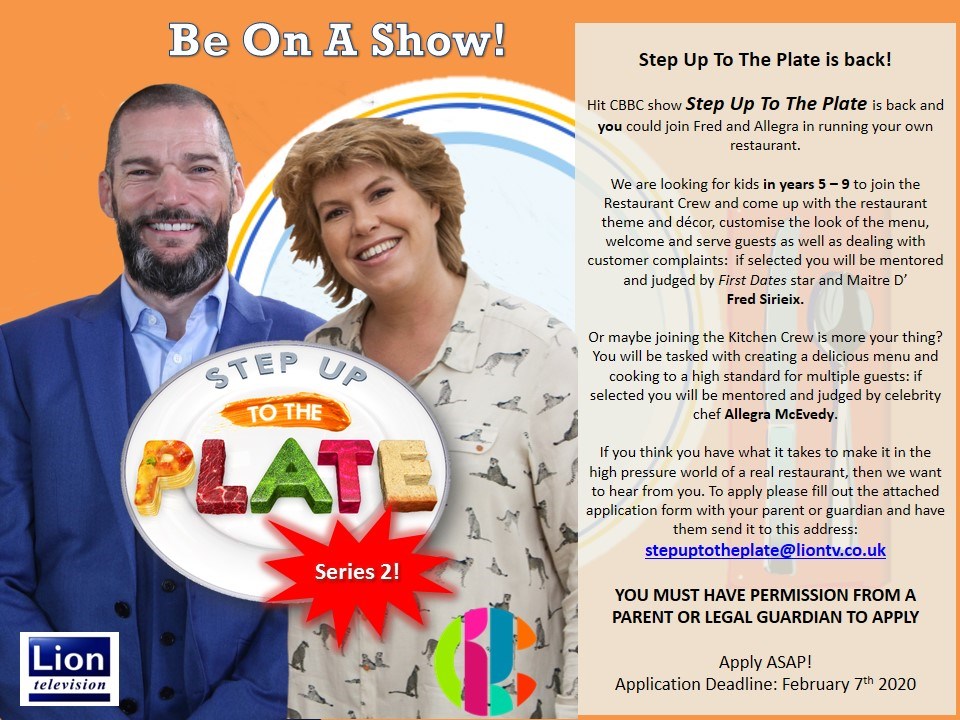 Please find the application below:
* The Village Players present their 34th Pantomime THE SNOW QUEEN on 20/21/22 February at The Cooper School
Our very own Mr Roberts (Singing Teacher) is playing Gerda and she will try to rescue her friend Kai from the wicked Snow Queen!

So come and enjoy the magic!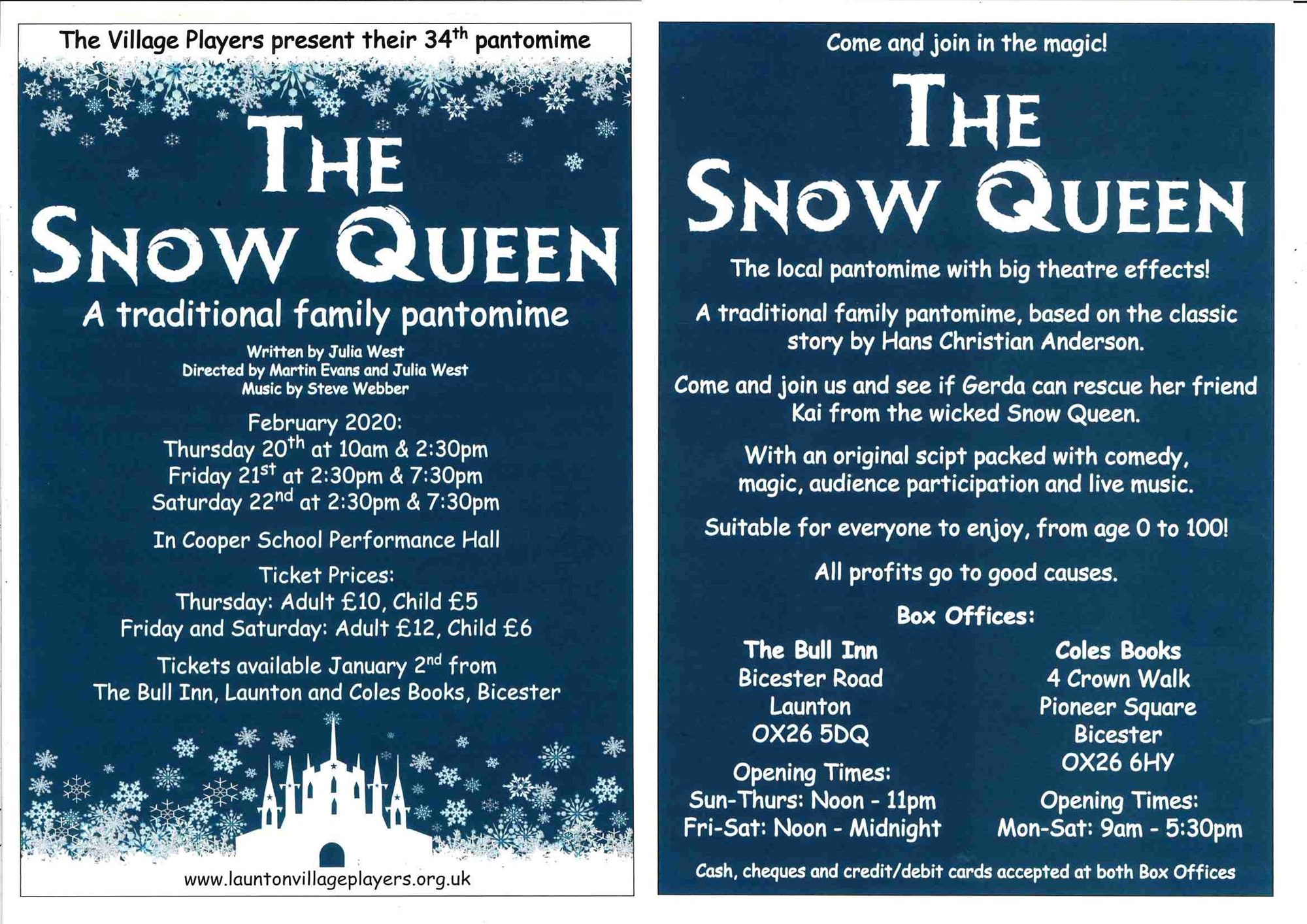 * Message from the School Health Nursing Service
Please click on the linik before to see this term's Primary Newsletter from the school health nursing service.
* Run 5 Miles for the Oxford Children's Hospital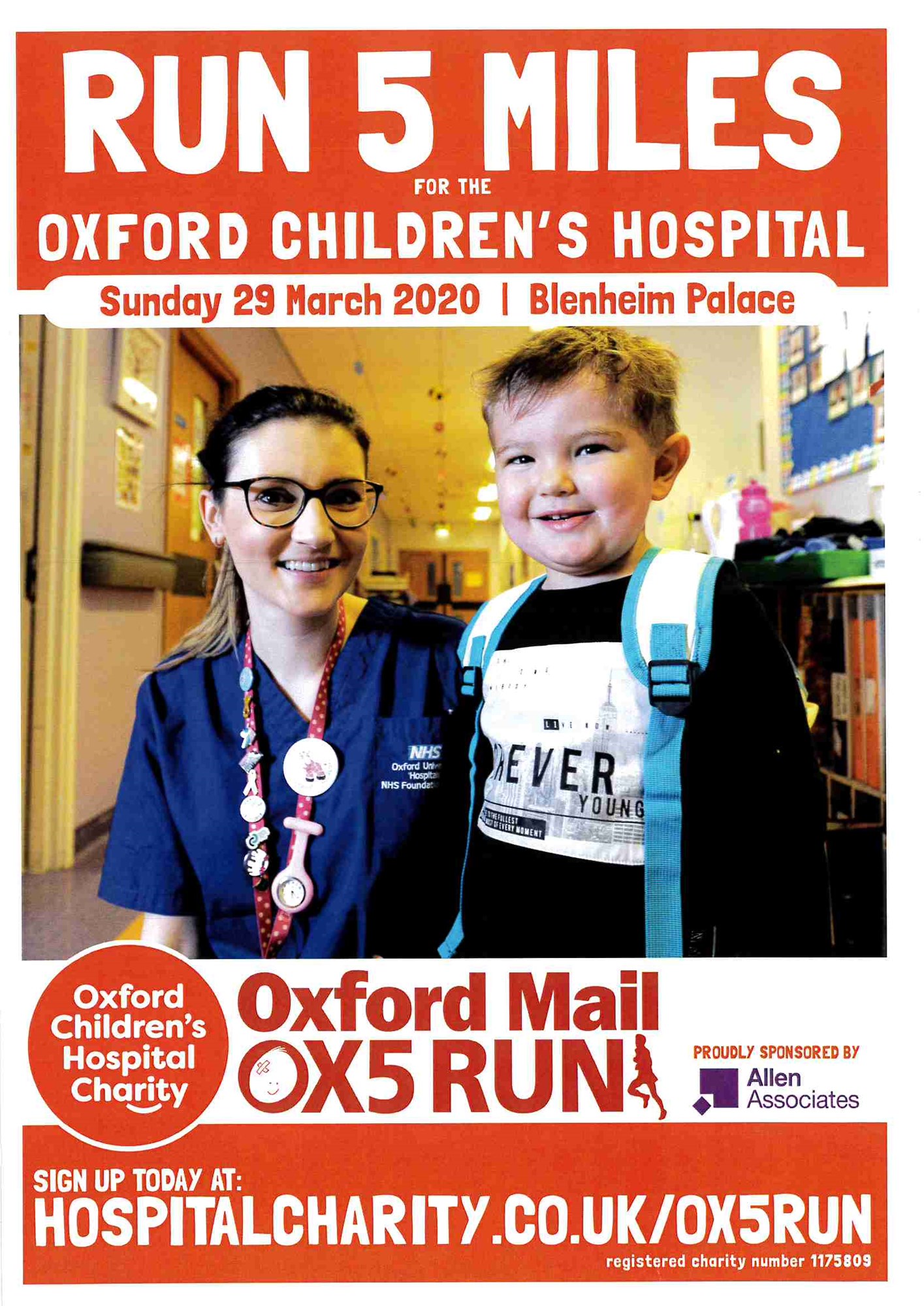 * Family Active, Sporting Together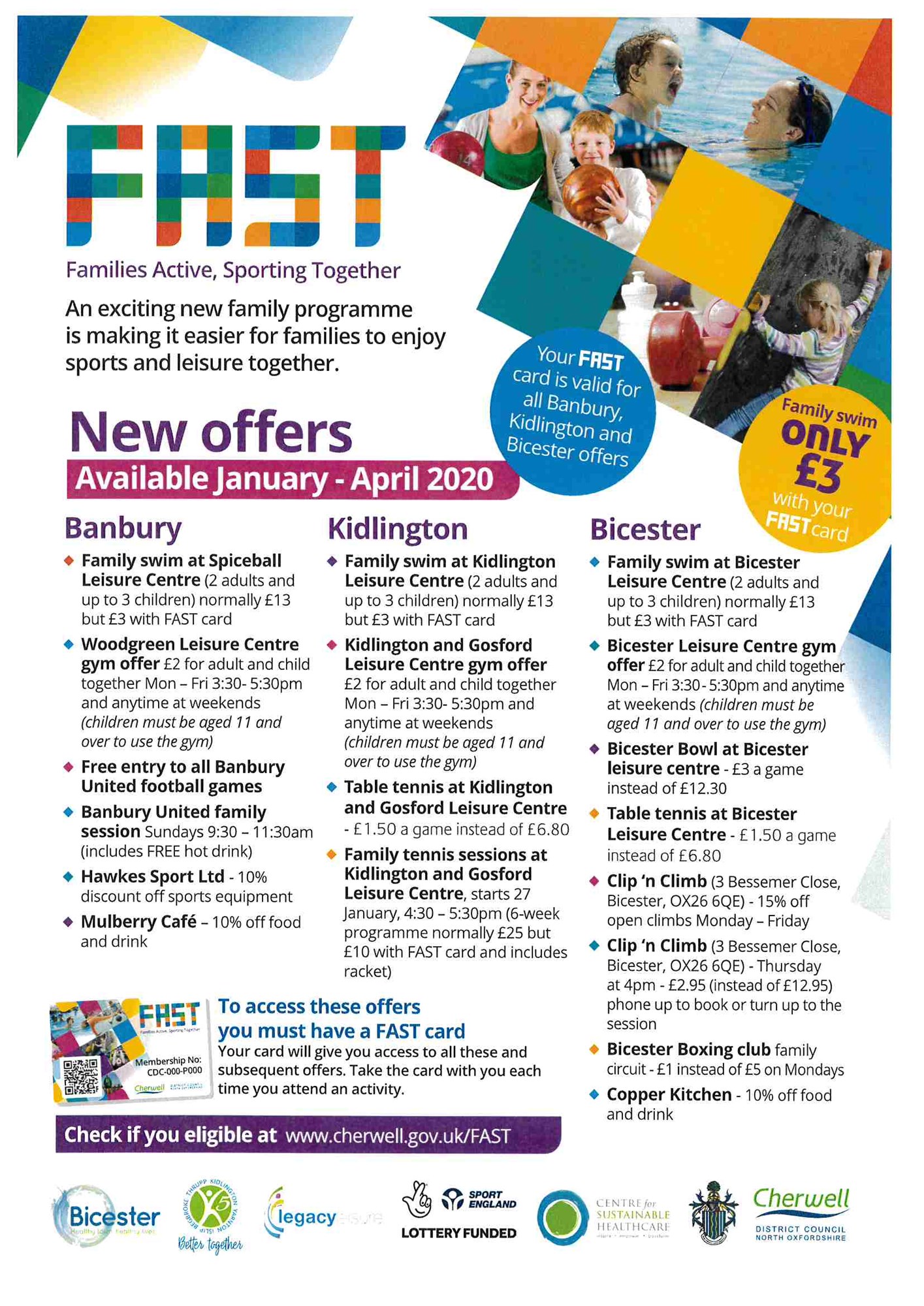 * Survey
Message from Oxfordshire Clinical Commissioning Group

Oxfordshire County Council would like to hear your views on smoking and local stop smoking services in Oxfordshire. Whether you are a smoker, have never smoked or an ex-smoker we are interested in your opinions.
This survey will take around 10 minutes to complete. Thank you for taking the time to complete the questionnaire - your responses are important to us and will help to us plan how we reduce the number of people who start and continue to smoke in Oxfordshire. The survey closes on Friday 14 February.