This term we will be looking at the following value:
Dear Parents,
This half term the school value is 'respect.' On Monday I spoke to the children about what it means to be respectful towards each other. The children recognised that being respectful is about listening to one another and understanding and accepting different viewpoints. We had a discussion about whether Pokémon cards should be brought into school and how to play in a fair and considerate fashion. In light of our discussions, we have decided to introduce a 'Pokémon club' which will take place every Wednesday lunchtime between 12:30 and 13:00. This will provide an opportunity for children with an interest in these cards, to play together in a respectful and considerate manner.
Talking about clubs, on Tuesday Miss Phillips began her new lunchtime cooking club. The first group of children made some delicious flapjacks which they were incredibly excited by. The club is proving very popular and so we have decided to introduce a rota system to allow all children, who are interested, to take part between now and Christmas.
This afternoon, your children will be bringing home some fantastic Christmas cards. These cards are available to purchase so that you can share with relatives and friends. Each child will come home with a bar code on the back of their art work and some instructions informing you how to order the cards. Please complete this over the weekend and return your work by Tuesday next week so that the PTA can order these. There are a few children in Early Years who are not in school today so we will make their cards with them on Monday. If you have any questions regarding the Christmas cards, please contact the school office or speak to your child's teacher.
Next Tuesday, we have the first inter-house sports competition of the school year. Suzanne Kirkwood from the Cooper School will be arranging a morning of fun and challenging races involving all children across the school. Your child will need to come into school on Tuesday wearing either red, green or blue to represent their house colours. It may be cold so please bring plenty of layers as we will be outside.
Year 5 and 6 will not be swimming this half term so therefore will have a second PE lesson on Friday afternoon from next week. As a result of this change, children in year 5 and 6 will need to come into school wearing their PE kit on a Wednesday and Friday.
Finally, I would like to share with you the news that we have had a positive COVID case within the school. Having spoken to Public Health England, no further action is required at this stage, however I would encourage all families to continue with your lateral flow tests and if your child does develop symptoms of coronavirus (COVID-19), they should get a PCR test and remain at home at least until the result is known. For any children who need to self-isolate, teachers will send work home to families to ensure that your children can access the same learning as their peers.
Have a great weekend
Mr Griffin
CELEBRATION ASSEMBLY WINNERS

| | | | |
| --- | --- | --- | --- |
| EXPLORER OF THE WEEK | Corey | Kindness | Corey offered to help me move some toys outside. He then offered to play with someone on who was on their own. |
| PATHFINDER OF THE WEEK | Daisy | Kindness | Daisy has been so kind to all her new friends at this school. |
| ADVENTURER OF THE WEEK | Jaxon-Lee | Respect | For making a better effort in his learning and showing respect. |
| NAVIGATOR OF THE WEEK | Zachary | Kindness | For being caring and considerate towards his classmates. |
Eco-Schools Green Flag Award
Over the course of this academic year our school will be taking part in a programme to complete all the criteria to gain our first green flag. There are seven tasks, and I'm pleased to announce the first has been completed by forming an eco-committee. We now have eight eco warriors, who are responsible for keeping everyone organised and informed. The second task is to complete an Environmental Review of our school. There are ten questions on each of these ten topics: energy, biodiversity, transport, waste, global citizenship, school grounds, marine, water, healthy living and litter. The topics will be shared throughout school and hopefully the children will learn valuable information about their school environment. After analysing the questionnaire results the eco-warriors will decide on three topics that need improvement, form an action plan and the school will implement it. This will be the third task. More information can be found at www.eco-schools.org.uk. The eco-warriors will be telling everyone all about the award in an assembly today, so please take the opportunity to ask them about it. With COP 26 happening at the moment this is a great time for children to learn more about caring for the planet for their future.
Thank you to everyone who has sent in used tablet blister packs for Marie Curie and green, blue and red milk bottle tops for Pathfinders Guide dogs for the Blind. We are still collecting - two recycling projects to put down on the questionnaire!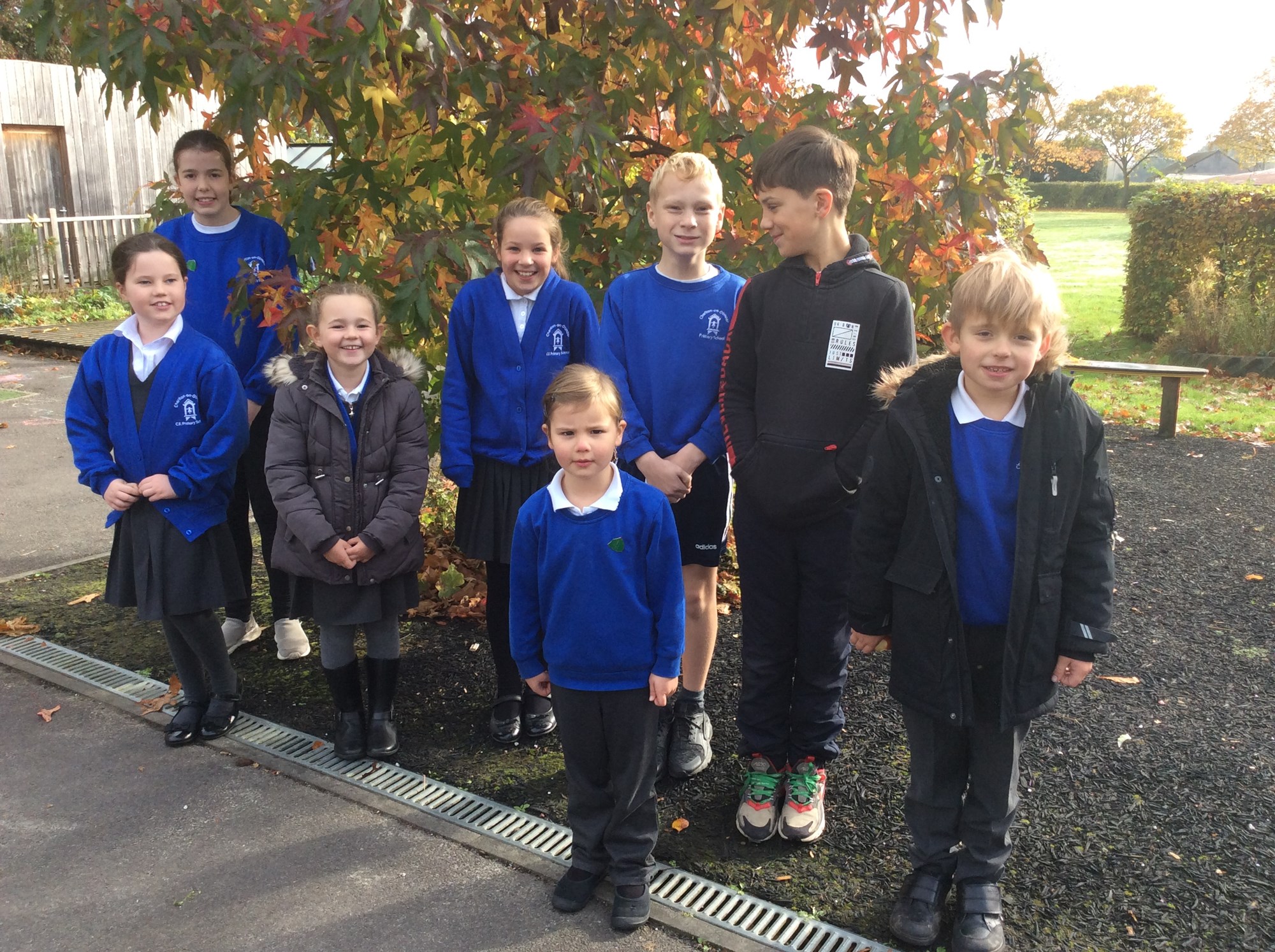 Christmas Cards
Christmas cards will be going home today with the children with online ordering details. Please can you place your orders online this weekend, and send the picture back by Tuesday with your child.

Toy donations for the Bicester Food Bank
Revered Lisa has asked for toy donations for the Bicester Food Bank to be dropped off at Sunday service in Oddington or to the school on Monday morning.
Primary school place - you must apply now.
If you child was born on or between 1 September 2017 and 31 August 2018, you need to apply for a primary school place now.
You must still apply even if your child already attends nursery attached to the school.
Deadline for applications is 15 January 2022.
 Web: Apply online at: www.oxfordshire.gov.uk/primaryadmissons 
Email: admissions.school@oxfordshire.gov.uk
Tel: 0345 241 2487